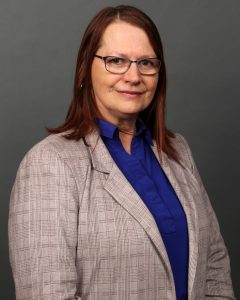 Debra Pretty-Straathof serves on the Ontario Federation of Agriculture (OFA) Board of Directors as the Zone 8 Director representing the counties of Arnprior, Lanark, Ottawa, and Renfrew.  She was re-elected as Zone Director for a three-year term, effective November 22, 2017. Pretty-Straathof has previously served on the OFA Board as Vice President and Executive Member.
She has served agricultural organizations at the local, provincial and national levels in Canada for more than 20 years.
Pretty-Straathof represents OFA on the Ontario Agri-Food Technology Board where she holds the position of vice-chair. She also represented the OFA on the Ontario Agriculture Commodity Council and is the past-chair of the Canadian Federation of Agriculture (CFA) Taxation Committee.
She served two years as an OFA Vice President and three years as a member of the Executive Committee. She chaired the OFA Science and Technology Committee, the OFA Finance Committee; was a member of the Farm Finance, Trade and Taxation Committee and the CFA Biotech Advisory Committee. Debra was also an OFA board liaison to numerous provincial commodity organizations, including the Dairy Farmers of Ontario, Ontario Sheep Marketing Agency, Aquaculture, Turkey Producers and the White Beans marketing board.
As President of a provincial charitable organization, the Farm Line Support Service, Debra gained additional valuable experience in administration, and dealing with staff, volunteers, government contracts, corporate law and director fiduciary duty.
Pretty-Straathof earned an Award of Merit from the Canadian General Standards Board Committee which was mandated to create the national volunteer labeling standards for "foods that are, and are not, genetically engineered."
She has also been a local Dairy Educator, chair of a local Agri-Food Education committee, and earned an Award of Merit for outstanding contribution to the local agriculture community. She helped create a number of agriculture events such as the Farm Comes to Town, the Rural Ramble, and the annual Farmers on The Hill lobby day.  She was also a founding member of the City of Ottawa Rural Clean Water Committee.
Pretty-Straathof believes in lifelong education. After two years of university and then years of taking various courses from nutrient management to executive training for volunteer organizations, while working on the Straathof family dairy farm, she went back to college and earned an honours diploma in Public Relations to enhance her involvement with agriculture organizations.
She is the proud mother of two daughters and a son.
Contact:
debra.pretty-straathof@ofa.on.ca