If you or someone you know is in distress and needs help, there are people and resources available that can help. Please note the following resources were compiled from various services, organizations and associations. OFA does not own the rights to any of the resources or support information listed below.

For Immediate Support:
Farmer Wellness Initiative – 1-866-267-6255
Access free counselling for farmers and their families 24/7/365 in English and French at 1-866-267-6255.
Connex Ontario – 1-866-531-2600
Provides mental health, addiction, and problem gambling navigation along with information services 24/7 at 1-866-531-2600 or text 47247. Chat online here.
211 Ontario – 211
Access free helpline that easily connects people to the social services, programs and community supports at 211 any time of any day. Offers live chat from their website here and the ability to email.
Distress & Crisis Ontario
Distress Centres are available across Ontario offering confidential, private support for anyone who is in distress or crisis. You will be connected to a distress centre nearest you. Live Chat available here.
Kids Help Phone – 1-800-668-6868
Provides counselling and information for ages 5-20 at 1-800-668-6868 or text CONNECT to 686868. Live chat here.
You matter!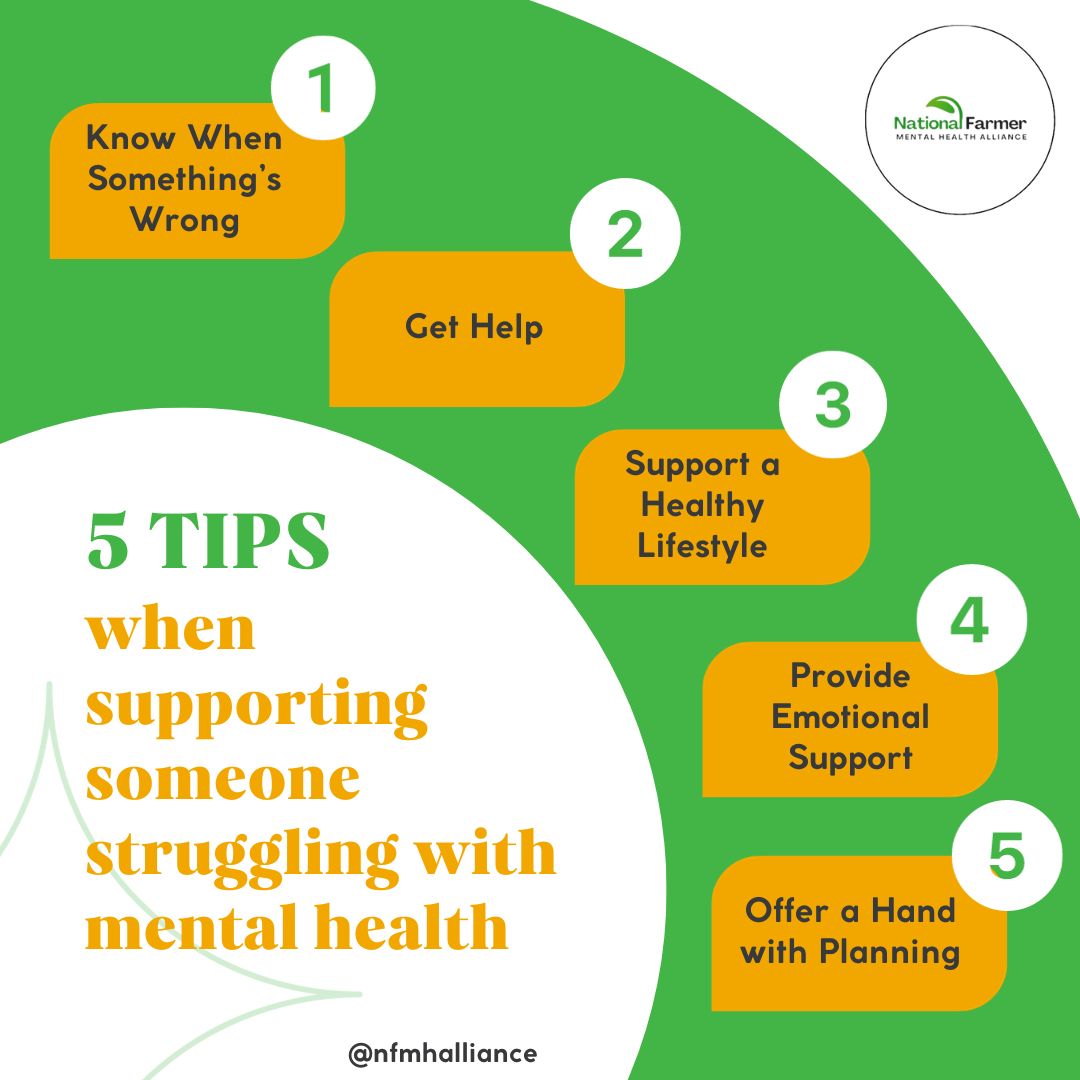 When making your daily to-do lists put yourself at the top of the priority list. As a natural steward of the land and dedicated caretaker of livestock you tend to put the needs of others first. But you can't run on empty! Investing in your wellness ensures you show up as the best version of yourself for tasks at hand and loved ones. Your equipment requires regular maintenance and so do you. Don't forget to check in on yourself throughout the growing season but be especially mindful during peak times such as planting and harvest. Make adjustments as needed. Ensure you make time for loved ones, self-care, hobbies, adequate sleep, and nutritious meals. The farmer is the farm's most valuable resource. It's Okay to Not Be Okay!

Wellness Resources / Tools
Click the tabs below to view additional resources & tools.
Click on the images below to view larger versions.
Agriculture Wellness Ontario – mental health support and education.
In the Know: Free workshop to learn about stress, depression, anxiety, substance use, and how to start a conversation about mental well-being.
The Guardian Network: Volunteer in your community. Learn strategies and tools to identify the signs of mental distress. Connect individuals with appropriate mental health and crisis resources.
Farmer Wellness Program Counseling available for OFA members in Hastings, Lennox and Addington, Northumberland, Prince Edward, and Lanark counties.
Do More Agriculture Foundation –champions for the mental wellbeing of those in the Canadian agriculture
AgTalk - A peer-to-peer support platform for those who work, live and play in agriculture. Connect, share, and receive support in a safe, anonymous space monitored 24/7 by clinicians.
National Farmers Mental Health Alliance provides mental health services, and support, which are specifically tailored to farmers, veterinarians and their families.
Canadian Agriculture Safety Association (CASA) Mental Health Hub – information and resources for Canadian Farmers. Take a farm stress inventory and make a management plan.
Ontario Ministry of Agriculture, Food and Rural Affairs - list of resources to help farmers and their families mitigate stress.
Canadian Centre for Agricultural Wellbeing – Supports Canadian agricultural well-being with grassroots evidence based programming.
Bell Let's Talk – connecting to mental health supports.
Canadian Mental Health Association - promotes mental health and supports people recovering from mental illness.
Farm Credit Canada – Rooted in Resilience.