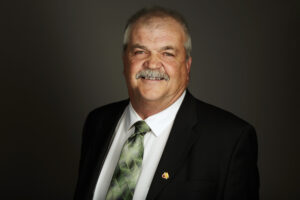 Paul Maurice has been a director with the Ontario Federation of Agriculture since 2021, representing farmers in Peel, Simcoe and York. For 50 years, he and his wife Louise were dairy farmers in the small bilingual community of Lafontaine just west of Penetanguishene. Today, they raise broiler chickens and grow corn, soybeans, cereal grains and hay, and farm together with their son Alex, who represents the fifth generation of their family on the farm.
Paul has a long history of active involvement in his community, church, and the broader agriculture sector. This includes serving as Deputy Mayor of Tiny Township, chairing the Central Ontario Agricultural Conference and being Vice Chair for Economic Development Corporation of North Simcoe, among many other positions.
His current involvement includes being a director with the North Simcoe Soil & Crop Improvement Association, the Simcoe County Agricultural Hall of Fame, and the Ste. Croix Parish Church Committee, and as a zone delegate for Grain Farmers of Ontario. Paul is active in two choirs and performs at local weddings and funerals together with his wife.
---
Paul Maurice, administrateur de la Fédération de l'agriculture de l'Ontario depuis 2021, représente les agriculteurs et les agricultrices de Peel, de Simcoe et de York. Son épouse Louise et lui ont été producteurs laitiers dans la petite collectivité bilingue de Lafontaine, à l'ouest de Penetanguishene, pendant plus de 50 ans. Aujourd'hui, ils élèvent des poulets à griller, cultivent du maïs, du soya, des céréales et du foin et exploitent la terre avec leur fils Alex, qui incarne la cinquième génération à l'œuvre dans la ferme familiale.
Figure de proue de longue date au sein de sa collectivité, de sa paroisse et de l'ensemble du secteur agricole, M. Maurice a notamment été maire adjoint du canton de Tiny, président de la Central Ontario Agricultural Conference et vice-président de la Société de développement économique de Simcoe Nord, en plus d'avoir occupé divers autres postes.
Il siège actuellement au conseil d'administration de l'Association pour l'amélioration des sols et des récoltes de North Simcoe, au conseil d'administration du temple de la renommée agricole du comté de Simcoe et au comité d'église de la paroisse Sainte-Croix, en plus d'assumer les fonctions de délégué de district de Grain Farmers of Ontario. M. Maurice est membre de deux chorales; son épouse et lui chantent également lors de cérémonies de mariage et de funérailles.
Contact:
paul.maurice@ofa.on.ca