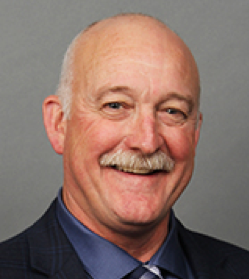 By Keith Currie, President, Ontario Federation of Agriculture
There's no denying Ontario's agri-food sector has been hit hard by the COVID-19 pandemic. Farmers across all commodities have been greatly impacted by this crisis and have experienced loss of market access, increased production costs, supply disruptions, processing challenges and revenue loss.
The Ontario Federation of Agriculture (OFA) understands commodities are facing urgent situations and without immediate government support, these farm businesses may face financial jeopardy.
Moving products through the food value chain onto the shelves of grocery stores and into the homes of Ontarians is the priority of the agri-food system. Without the infrastructure and resources available to our farm businesses to grow food for the province and the world, we are jeopardizing the reliability of access to safe, healthy and affordable food products for all Ontarians.
Ontario has an intensely robust and diverse agri-food sector as farmers grow and produce more than 200 different products. Significant labour shortages have impacted the growing season for many Ontario fruit and vegetable growers, including apple and tender fruit growers. Growers are still facing major labour gaps as many do not have a full contingent of employees available, including seasonal and temporary workers.
The uncertainty and concern of the feasibility of the retail marketplace could greatly affect the sale of products. Social distancing guidelines and restrictions could prevent pick your own operations from opening and conducting business, leaving many growers without financial stability.
Ontario beef farmers are losing approximately $2 million per week during this crisis. Beef and pork producers were promised funding by the federal government to assist with reduced processing capacity, market volatility and surplus products, but details of that investment have not been confirmed. OFA will continue to monitor the situation and looks forward to hearing more about how and when these funds will be accessible.
Farmers in the grains and oilseeds sector are facing uncertainty in the months ahead as seed begins to go into the ground. Large crop planting intentions in the US combined with uncertain requirements for livestock feed, and reduced ethanol requirements as all of Canada travels less, are likely to have even further downward pressure on already stressed markets.
As a result of the rapidly changing marketplace and consumer demands caused by COVID-19, egg farmers have seen a 15% reduction in sales. Hatcheries are dealing with reduced demand for their chicks and limited export opportunities.
Beekeepers across the province are dealing with financial instability resulting from reduced revenue due to lost pollination contracts as growers have been forced to adjust their crop plans, loss of farmers' market access and decline in commercial sales.
The veal sector has dealt with declining market demand with approximately 70% of veal produced for the food service and hospitality industry and the remaining 30% for retail and specialty butcher shops. Mushroom growers are facing a 30% loss of production and the floriculture industry is expecting to endure a 40% reduction in sales.
The Ontario lamb market has been unpredictable with prices dropping in early April to approximately $100 per hundredweight (cwt). Markets have since increased over the past two weeks, however. While the sheep industry has not had to deal with the same financial impact as other sectors, Ontario sheep farmers continue to work alongside industry partners to manage issues and plan for future disruptions.
Dairy farmers received a 2% cut in their quota and producers will share the cost of dumping excess milk. Access to a credit line to help adjust to changing market demands through this pandemic was announced earlier this week by the federal government.
Many in the equine industry have lost income sources due to operations being forced to close their doors after being deemed a non-essential service. Ontario equine farms and facilities don't have the necessary resources to feed their animals as most purchase on a monthly or bi-monthly basis. This is creating dangerous circumstances for the equine sector that could potentially lead to serious animal welfare issues and the financial demise of many businesses. In order to avoid significant livestock welfare problems, an influx of government support is necessary.
Grape growers have been assessing and preparing for increased labour and production costs related to worker housing, sanitation, and personal protective equipment in order to meet social distancing requirements. According to a recent Grape Growers of Ontario survey, 15% of growers indicated that grape contracts have been cancelled and 36% report that contracts have been reduced.
There is 10,000 acres of ginseng to cover in a short time frame with a limited workforce. If gardens are not properly covered it could impact not only this year's harvest, but the next four years' worth of harvests. With 10,000 acres under production, it amounts to more than $700 million dollars of lost farm gate sales, leading to an economic impact of $441 million annually or $1.8 billion over the next four years.
OFA will continue to advocate for Ontario's agri-food system, working alongside industry stakeholders and government policymakers to safeguard production, processing and distribution of the food supply chain. We need our federal government to provide workable solutions through financial support to keep our farm businesses viable.
For more information, contact:
Keith Currie
President
Ontario Federation of Agriculture
705-441-3362
Cathy Lennon
General Manager
Ontario Federation of Agriculture
519-821-8883