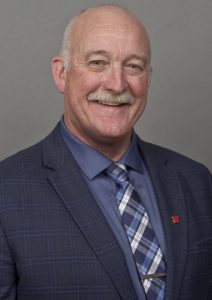 Keith Currie, a Collingwood Ontario-area farmer, currently serves on the Ontario Federation of Agriculture (OFA) Board of Directors as the Zone 13 Director representing the counties of Peel Simcoe and York.
Keith held the position as President of the Ontario Federation of Agriculture (OFA) for four years, leading OFA's 38,000 farm family members. Currie has more than 25 years of experience with OFA and agricultural advocacy, which began with an appointment to the Simcoe County Federation of Agriculture, where he held numerous positions including President from 2004-2006. He has served on and chaired many local and provincial agriculture organizations as well as many conservation initiatives during his career.
Currie's career in advocacy has led to numerous appointments to provincial government advisory panels such as 2019, Ontario Advisory Panel on Climate Change, 2015, 4-Plan Review Panel: a review of significant land use plans in Ontario, and to the Ministry of Agriculture, Food and Rural Affairs (OMAFRA) Minister's Advisory Panel.
In February of 2019, Currie was elected as the First Vice President of the Canadian Federation of Agriculture (CFA) at the CFA annual meeting in Ottawa.
With a diploma in Agriculture Production Management from Ridgetown College, Currie returned home to the Collingwood Ontario family operation, to manage an eighth-generation dairy and cash crop farm in Simcoe County with his wife Janice and four children. The dairy herd was dispersed in 2003 and the operation now focuses on production of grains and oilseed, forages for dry hay, along with a sweet corn and gladiolus flower production.
Contact:
keith.currie@ofa.on.ca
705-441-3362