OFA awards bursaries to five young leaders in agriculture
Expanded program continues tradition of celebrating the industry's next generation 
GUELPH, ON [November 21, 2022] – The tradition of celebrating young people in agriculture continued at the Ontario Federation of Agriculture's (OFA) 2022 Annual General Meeting today as the organization named five winners in its newly expanded Bursary Program.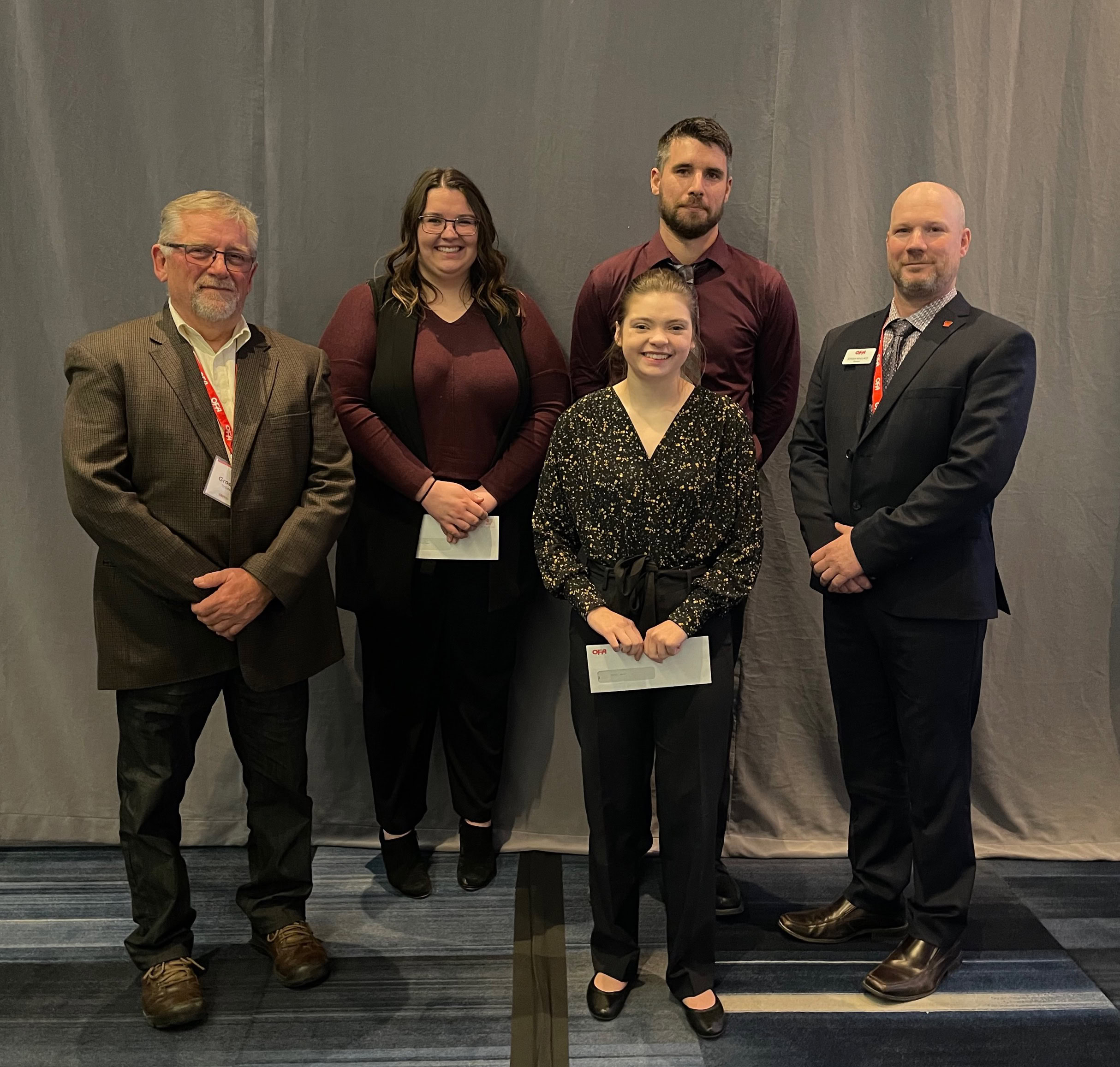 Along with offering three bursaries awarded to students in undergraduate programs studying agriculture, OFA has added a bursary this year for a person completing an apprenticeship, as well as one for an individual completing a post-graduate or leadership development program. Each bursary is worth $2,000.
"The addition of two new bursaries made it possible for us to recognize the importance of all levels of education in setting people up for success in our industry. This year's recipients represent the diverse skillset the next generation of young leaders bring to the agriculture industry," says Peggy Brekveld, OFA President. "We're proud to recognize five individuals who are dedicated to using their skills to better agriculture and Ontario's rural communities."Applicants are judged based on demonstrated leadership skills, involvement in the community, and varied accomplishments in both school and the agriculture industry.
Post-graduate bursary winner
Valerie Higginson of Vankleek Hill is completing her final year in the Doctor of Veterinary Medicine program at the Ontario Veterinary College, University of Guelph. She grew up on her family's sheep farm and spent weekends and summers milking cows. After graduating next spring, Valerie intends to pursue a position as a food animal veterinarian working primarily with bovine species. She hopes to give back to the industry that raised her by volunteering as a 4-H leader, mentoring upcoming students, and joining industry boards.
Apprenticeship bursary winner
Andrew Kuiack is apprenticing through the Agriculture Equipment Technician program offered at Fanshawe College. He grew up in Ottawa, but a move west inspired a different path for his life. Andrew credits a friend for taking him under his wing and sparking the passion that has now grown into a career as a mechanic at a local dealership. Andrew is also dedicated to the herd of cattle he raises with his wife and kids and is proud to sell beef to his local community.
Undergraduate bursary winner, North/East region
Massey, Ontario native Faith Emiry is finishing her undergraduate degree at the University of Guelph in the Food, Agriculture and Resource Economics program. Growing up on a dairy farm with a seasonal strawberry patch, Faith was accustomed to hosting school groups and community members. This fostered a passion for advocating on behalf of agriculture and representing the industry positively. Faith has honed her leadership and communication skills by holding an executive position on the OAC Class of 2023 board for all four years of university.  After graduation, Faith intends to work in a role that bridges the gap between farmers and consumers.
Undergraduate bursary winner, Central region
Michael Jones is a Bachelor of Applied Science candidate in Chemical Engineering, Class of 2025. at Queen's University. Hailing from Midland, Ontario, Michael's passion for soil science can be traced back to elementary school. His resume includes two award-winning research projects, extensive volunteer work, and a diverse list of jobs like pharmacy assistant and co-owning a produce business. With a specialization in biochemical engineering, Michael is striving to be a part of advances in agricultural chemical technology, working as a process engineer or development researcher.
Undergraduate bursary winner, Southwest region
Lexi Johnston of Listowel is a student at the University of Guelph in the Bachelor of Science in Agriculture program, majoring in Animal Science. With a well-rounded resume of judging accolades, leadership positions, volunteer work and 42 completed 4-H clubs, Lexi aims to bring a wealth of knowledge back home to the family dairy and grain farm. She has a keen eye on the future, aspiring to maximize herd production and cow comfort. Lexi's passion for agriculture and her community is evident in the amount of time she has dedicated to giving back to both.
Funds raised at the silent auction held at this year's AGM will go toward OFA's 2023 Bursary Program. OFA invites students to look for announcements regarding applications in late spring.