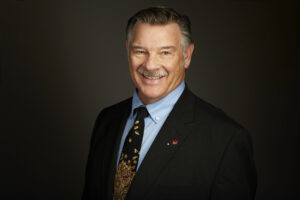 By Larry Davis, Director, Ontario Federation of Agriculture
Every year in November, members of Ontario's largest general farm organization, the Ontario Federation of Agriculture (OFA), come together for their annual convention.
I farm near Burford and I've represented farmers from Brant, Haldimand and Norfolk counties on the OFA's provincial board of directors for more than 30 years.
As directors and as an organization, our job is making sure that the voices, concerns and needs of farmers and rural communities are heard by decision-makers – a job we do through direct advocacy with elected officials, political staff and bureaucrats from all three levels of government, as well as others with similar interests or common goals.
The convention, which will be in Toronto this year, is our opportunity to showcase what the OFA has done throughout the past year on behalf of its members. It's here where our delegates from all over Ontario have the opportunity to raise issues and debate resolutions as they set policy and shape the direction of the OFA's activities for the year ahead.
The convention is also about education. Along with dealing with the business of the organization, the event always offers a good line up of interesting and topical speakers, as well as the opportunity to participate in seminars that delve more deeply into the issues of the day.
This year, we'll be hearing from Senator Rob Black, Ontario Minister of Agriculture, Food & Rural Affairs Lisa Thompson, and MPP John Vanthof, who is the critic for agriculture, food and rural affairs for Ontario's official opposition. Kelly Dobson from LeaderShift Inc. will talk about how farmers can unleash the untapped potential of their farm operation, and comedian Derek Edwards will look at the lighter side of life.
Workshops will focus on deadstock management, robotics in agriculture, working with land use planners and engaging with government and media. We'll also be electing the final member of our board of directors for the coming year as delegates vote for the position of Director-at-Large and recognizing the future of our industry by presenting the five winners of the annual OFA bursary program.
In addition to business and education, the convention is also a wonderful networking opportunity. It's a chance to meet and chat with fellow farmers, as well as other industry organizations that OFA works closely with, and even representatives from OFA's benefit program partners.
I've been attending annual OFA conventions since the late 1980s and over the years, there has definitely been a trend towards including more educational opportunities. We've also added the Ontario Young Farmers' Forum to give people aged 18 to 40 who are interested or involved in agriculture a chance to learn more about the industry.
There has also been a change in the demographic of OFA convention delegates. We're not just seeing younger people come forward to take on leadership opportunities, but the role of women has also changed significantly.
As the number of female farm operators has grown – according to the latest Canadian census data, 31% of Ontario's farmers are women – we've also seen more women become involved with the OFA as delegates, local leaders, and directors at the provincial level. In fact, our organization has been led for the last three years by Peggy Brekveld, a dairy farmer from Thunder Bay who has had a long involvement with the OFA in many different capacities.
Agriculture is a major contributor to the provincial economy, but farmers make up only a small percentage of Ontario's population. Organizations like the OFA give farmers an opportunity to come together, lend strength to their individual voices and help the industry shape a future that will ensure "Farms and Food Forever".
For more information about the annual meeting, check out the AGM resources below:
For more information, contact:
Tyler Brooks
Director of Communications and Stakeholder Relations
Ontario Federation of Agriculture
519-821-8883 ext. 218
tyler.brooks@ofa.on.ca