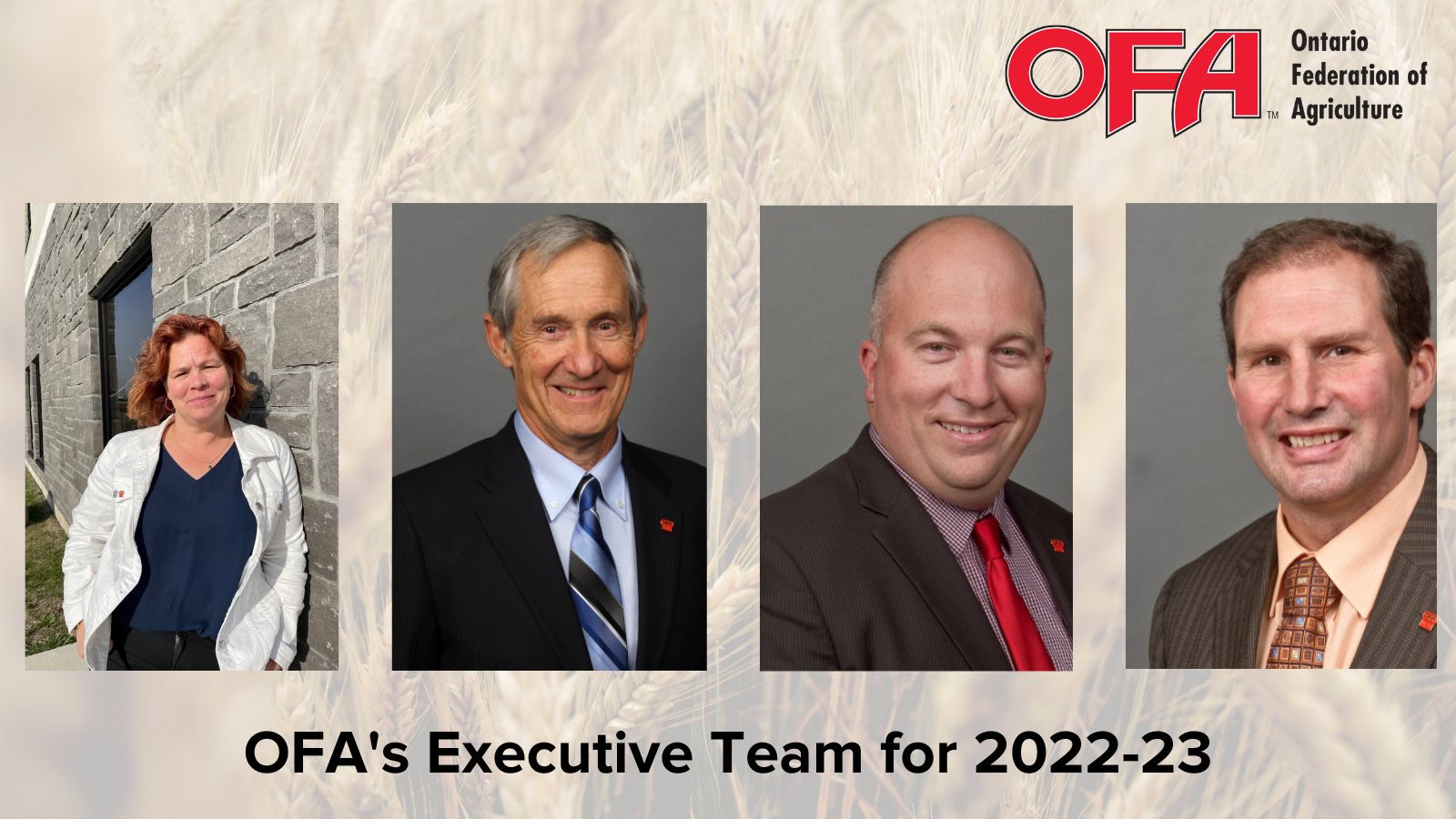 For immediate release 
GUELPH ON [November 22, 2022] – The Ontario Federation of Agriculture's board of directors has expressed confidence in the leadership of Peggy Brekveld by electing the Thunder Bay area dairy farmer to a third one-year term as President of the province's largest farm organization.  
Joining Brekveld on the OFA executive are Vice Presidents Drew Spoelstra and Crispin Colvin, and Executive Member Paul Vickers. Spoelstra was elected to a third one-year term as Vice President. Colvin replaces outgoing Vice President Mark Reusser, moving into the position after serving one year as Executive Member, and Vickers is new to the OFA executive. The elections were held at a board meeting following the annual general meeting that wrapped up in London earlier today.  
"I'm humbled by the support from my fellow board members, and I'm honoured to work on behalf of Ontario's farmers for another year as president of the Ontario Federation of Agriculture," says Brekveld. "I'm proud of how we've built on our partnerships in the industry and with our stakeholders and I'm looking forward to continuing that work to ensure our sector remains strong, viable and productive."  
Brekveld, a director-at-large with the organization, was first elected as OFA president in 2020. She previously served as an OFA Vice President from 2014 to 2020, and represented the northern Ontario regions of Algoma, Cochrane, Dryden, Kenora, Manitoulin-North Shore, Nipissing East & West, Parry Sound, Rainy River, Sudbury East & West, Temiskaming and Thunder Bay as Zone 15 director from 2011-2014. Together with her husband Gert, she owns and operates Woodstar Farm, a 70-cow dairy farm in Murillo, and she is a graduate of Class 12 of the Advanced Agricultural Leadership Program.  
Drew Spoelstra is OFA's Zone 5 Director representing the diverse agricultural areas of Halton, Hamilton-Wentworth and Niagara on the OFA board since 2013. Before becoming Vice President in 2020, he served four years as Executive Member. The Spoelstra family owns and operates Roy-A-Lea Farms Ltd. in Binbrook, where they milk cows and grow corn, soybeans, wheat and hay. Spoelstra also manages Roy-A-Lea Seeds Ltd., a dealership for Pride and C&M seeds, and together with his wife Heather, raises and shows Clydesdale horses. He is a graduate of Class 13 of the Advanced Agricultural Leadership Program.   
Crispin Colvin is a soybean, corn and wheat farmer from Middlesex County. He represents the counties of Lambton and Middlesex on the OFA board as Zone 6 director and first joined the OFA provincial board in 2016 as a director-at-large. Colvin is a part of various OFA liaison commodity groups and spent 16 years on municipal council in his region, serving as councillor, deputy mayor, mayor for Thames Centre, and Warden of Middlesex County.  
Paul Vickers, a dairy farmer from Griersville, represents the counties of Bruce and Grey on the OFA board as the Zone 2 director. After first joining the OFA board in 2019, he was just acclaimed to the director position for a second three-year term.  
The Ontario Federation of Agriculture (OFA) is the largest general farm organization in Ontario, representing 38,000 farm families across the province. As a dynamic farmer-led organization based in Guelph, the OFA represents and champions the interests of Ontario farmers through government relations, farm policy recommendations, research, lobby efforts, community representation, media relations and more. OFA is the leading advocate for Ontario's farmers and is Ontario's voice of the farmer. For more information, visit ofa.on.ca. 
For more information, contact: 
Tyler Brooks
Director of Communications and Stakeholder Relations
Ontario Federation of Agriculture
519-821-8883 ext. 218
tyler.brooks@ofa.on.ca