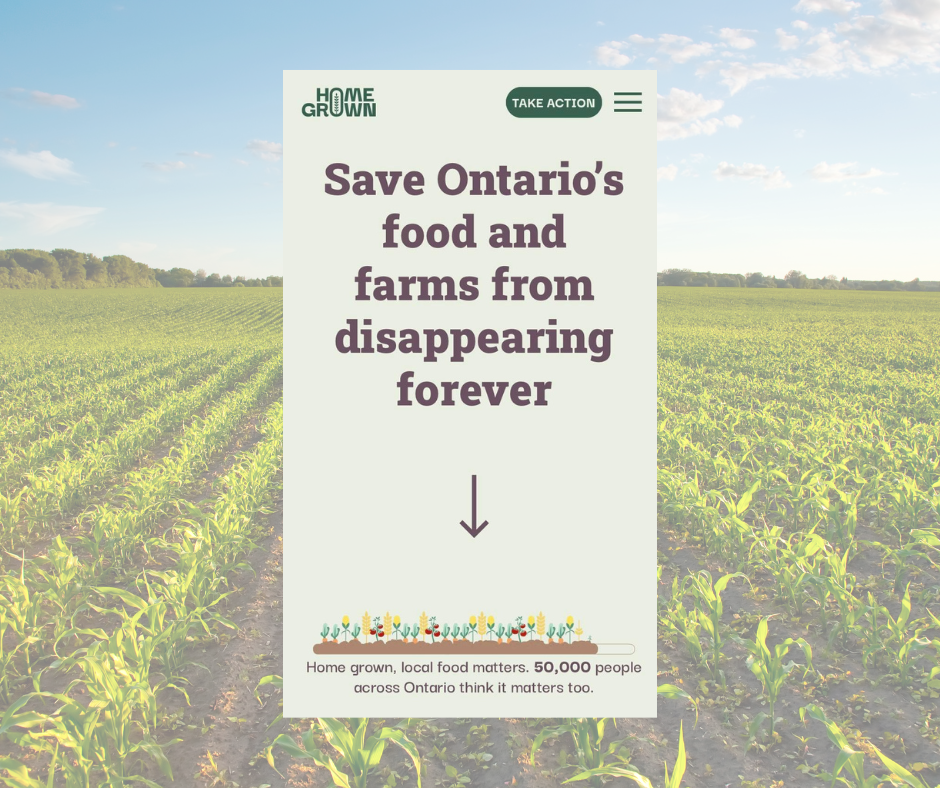 GUELPH, ON [November 28, 2022] – With a growing concern for the fate of Ontario's fertile farmland, more than 50,000 people have signed on to show support for the Ontario Federation of Agriculture's (OFA) Home Grown campaign.
The campaign, a public awareness initiative showcasing the threat to rural lands from urban sprawl and development, reached the milestone number over this past weekend. It shows strong support for smart urban planning policies that encourage development within existing urban areas while preserving the farmland that provides Ontario — and the world — with food, fuel, fibre and flowers.
"We are losing productive farmland at an alarming rate in Ontario," says OFA President Peggy Brekveld. "The path we are currently on is not sustainable. We cannot continue to sacrifice the lands where we grow and raise our food in the name of growth. It may take some effort and creative thinking, but we can continue to develop Ontario without paving over our most precious natural resource – fertile farmland."
According to the 2021 Census of Agriculture released earlier this year, Ontario is losing an average of 319 acres of productive farmland every day. Since 1996, Ontario has lost 1.5 million acres of productive farmland — an area roughly the size of Toronto, Peel Region, Halton Region, Waterloo Region, Hamilton and Niagara Region combined.
These are stunning figures, especially when you consider that only five per cent of Ontario's land is considered arable. While the province is geographically large, much of the northern reaches cannot be farmed because of the Canadian Shield and climate. In the South, cities and towns cover much of the landscape.
Every 319 acres of farmland that we lose is equivalent of losing nine family farms every week. In terms of the feed we eat, 319 acres can produce more than 23.5 million apples, 1.2 million bottles of Ontario VQA wine or 37.1 million strawberries.
Agriculture and food in Ontario is a major economic driver contributing $47 billion annually to the provincial economy and employing nearly one million Ontarians through skilled labour, trades, technology, innovation and more. The loss of thousands of acres of agricultural land has the potential to jeopardize our domestic supply chain and local food production. The impact will be felt on consumers today and for future generations.
"We've seen how supply chain shocks and delays have affected the price and availability of everyday goods that our families rely on," says Ms. Brekveld. "These same supply chain shocks and delays have resulted in the worst inflation Ontario has seen in more than three decades. We are seeing product shortages because of weather patterns in foreign countries. Far away turmoil like the war in Ukraine affects global food security. And, if nothing else, the pandemic has emphasized the importance of local production across many sectors of our economy. Farming matters. Where we grow our food matters, too. Ontario has some of the best tastes and quality in the world."
Thank you to the more than 50,000 people who have signed on to support the Home Grown campaign and share the OFA's vision of Farms and Food Forever. Learn more about the OFA's Home Grown campaign and add your signature to the wall at homegrownofa.ca.
About the Ontario Federation of Agriculture
The Ontario Federation of Agriculture (OFA) is the largest general farm organization in Ontario, representing 38,000 farm families across the province. As a dynamic farmer-led organization based in Guelph, the OFA works to represent and champion the interests of Ontario farmers through government relations, farm policy recommendations, research, lobby efforts, community representation, media relations and more. OFA is the leading advocate for Ontario's farmers and is Ontario's voice of the farmer. For more information, visit www.ofa.on.ca.
About Home Grown
A public awareness initiative of the Ontario Federation of Agriculture, Home Grown is a campaign to advocate for the importance of Ontario farms as a source of food, fuel and fibre. Arable farmland is our most important natural resource, but Ontario is losing an average of 319 acres of farmland every day; that is the equivalent of nine family farms paved over every week. It is the objective of Home Grown to raise awareness about the importance of protecting and preserving Ontario farmland, while helping develop a workable plan to guide responsible development in Ontario that will ensure growth to provide housing and support local tax bases in a way that does not encroach on farmland.
Join the conversation on Twitter @OntarioFarms and Facebook /ontariofarms. For more information, please visit homegrownofa.ca.
For more information, contact:
Tyler Brooks
Director of Communications and Stakeholder Relations
Ontario Federation of Agriculture
519-821-8883 ext. 218
tyler.brooks@ofa.on.ca