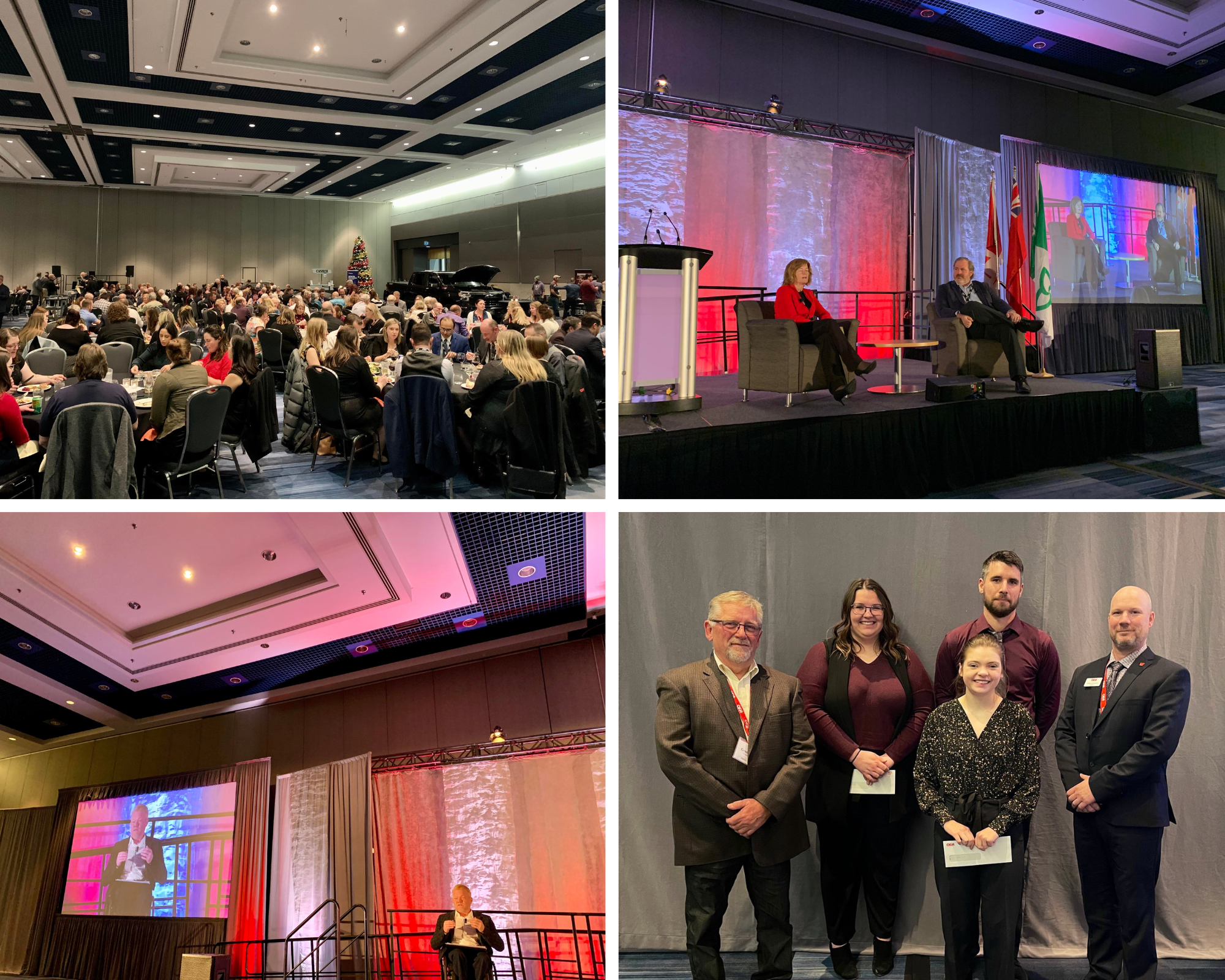 GUELPH ON [November 22, 2022] – Ontario's farmers hosted their annual general meeting in London over the past two days, gathering in-person for the first time in three years to debate resolutions, listen to engaging speakers and participate in educational workshops. Approximately 450 people attended the meeting, which marked the first time the Ontario Federation of Agriculture's (OFA) Annual General Meeting was held in London.
Keynote speaker Jeff Adams, Paralympian and six-time world champion wheelchair racer, drew on his own life experiences to share themes also common in the farming community: resilience, perseverance and striving for excellence. He encouraged farmers to look around themselves for support from family, friends and community when they need it, and to offer that support to others.
"After several tough pandemic years, Jeff's message highlighted the tremendous value of community and interpersonal connection that we've missed since the last time we were able to host our convention in-person," says Peggy Brekveld, OFA President. "Jeff's message was also an inspiring one to our audience because it ties in so strongly with the Farmer Wellness Initiative, a mental health support program for farmers and their families that OFA has put a lot of effort into this past year."
Ontario's Minister of Agriculture, Food and Rural Affairs Hon. Lisa Thompson addressed the crowd, highlighting recent government investments into the sector and efforts currently underway to update various pieces of legislation impacting agriculture, including modernization of the Veterinarians Act, and consultations around the Agricultural Research Institute of Ontario.
Other speakers at the event included MPP and Agriculture critic John Vanthof, Dean of the Centre for Research and Innovation at Fanshawe College Alison Ewart, Scotiabank Chief Economist Jean-Francois Perrault, Scotiabank National Head of Agriculture Janice Holzscherer, Hydro One Vice President of Stakeholder Relations Daniel Levitan, and Canadian Federation of Agriculture President Mary Robinson.
OFA also announced the five recipients of its newly expanded bursary program for young people: post-graduate winner Valerie Higginson, apprenticeship winner Andrew Kuiack, and undergraduate winners Faith Emiry, Michael Jones and Lexi Johnston. A silent auction at the event raised more than $10,000 in support of next year's bursary program.
The Ontario Federation of Agriculture (OFA) is the largest general farm organization in Ontario, representing 38,000 farm families across the province. As a dynamic farmer-led organization based in Guelph, the OFA represents and champions the interests of Ontario farmers through government relations, farm policy recommendations, research, lobby efforts, community representation, media relations and more. OFA is the leading advocate for Ontario's farmers and is Ontario's voice of the farmer. For more information, visit ofa.on.ca.
For more information, contact:
Tyler Brooks
Director of Communications and Stakeholder Relations
Ontario Federation of Agriculture
519-821-8883 ext. 218
tyler.brooks@ofa.on.ca