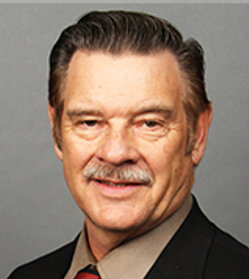 By Larry Davis, Director, Ontario Federation of Agriculture
In recent months, farmers and county federations of agriculture have banded together to show their generosity, spread positivity and offer support to their local communities across the province. Despite the extensive pressures and challenges faced by Ontario's agriculture and food industry throughout the COVID-19 pandemic, it did not deter the agriculture community from continuing to find ways to help those in need and support our rural communities.
The nature of farming results in farmers being faced with tough situations on a regular basis. They're forced to make difficult decisions that impact the future of their business. However, farmers have an innate ability to adapt, evolve and persevere through uncertainty, and the COVID-19 crisis was no exception. Farmers forged through spring planting season and a pandemic to continue producing healthy, safe and affordable food for all Ontarians. Their resiliency and optimism carried into new measures this spring, expanding beyond individual farm operations, with countless examples of community support and contributions across the province.
Media outlets featured stories on local federations collaborating with community members, agri-food businesses and organizations across the sector to spread goodwill and support those in need. Contributions included organizing tractor parade tributes in support of our frontline workers, generous donations of funds and surplus food products for food banks, retirement homes, healthcare facilities and assisting with the production of non-medical face shields and masks. On social media, videos were shared of donations being mailed to food banks, and photos highlighting pop-up events such as local food drives and county-wide non-perishable food collection days. In northern Ontario, a map that had initially been prepared for use at upcoming fairs and festivals promoting local food was distributed by mail as well as being converted into an online resource to promote direct to consumer sales. Local federation representatives also found new ways to make personal deliveries, donning masks and respecting social distancing protocols to express their gratitude towards essential healthcare workers.
Once the reality of the lockdown set in, the reaction from the agricultural community was swift. Farmers found alternative ways to pay it forward to ensure our healthcare system was supported and that Ontarians could rely on our value chain to keep food on their tables. County and regional federations focus a handful of their events and initiatives on in-person consumer outreach, as a result of the pandemic, federations were forced to adjust their efforts, allowing our members to act in support of our communities in new ways.
These local federations were not alone in their generosity as many developed new partnerships and alliances as a result of COVID-19. Agri-businesses, commodity groups, farm organizations, community associations and farm families have been donating their time, money, resources and support throughout this crisis. Meat processing facilities have been receiving meals from their local communities in a show of appreciation for their ability to keep fresh meat products on our grocery store shelves. Transporters have been recognized for their vital role along the value chain and retailers have been applauded for their ability to adapt and provide us with their frontline services. Agriculture at all levels has banded together to spread goodwill and positivity in a challenging time.
Earlier this spring, OFA launched the #OntAgProud social media campaign to share positive stories, recognize those involved in our dynamic sector and build pride in our industry. The efforts displayed by Ontario agriculture to make our communities stronger and more connected fit into this campaign seamlessly. Each example of community engagement stems from a time of uncertainty, but spreads optimism and hope throughout our rural communities.
We have all experienced the pressures, challenges and changes as a result of the COVID-19 crisis. However, the pandemic has also brought generosity, kindness and positivity to the forefront of our industry. Thank you to the members, federations and networks that have joined together to support one another and make our rural communities stronger.
For more information, contact:
Larry Davis
Director
Ontario Federation of Agriculture
519-758-7693
Cathy Lennon
General Manager
Ontario Federation of Agriculture
519-821-8883