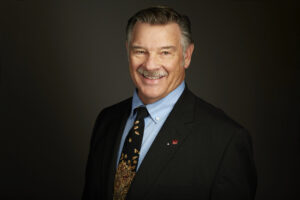 Larry Davis has represented farmers in Brant, Haldimand and Norfolk counties as a director on the Ontario Federation of Agriculture board since 1989. A former dairy farmer, he farms near Burford with his wife and son, where they grow hay, corn, and soybeans as well as a biomass crop called miscanthus on 465 acres of owned and rented land, and raise sheep.
Larry is a strong believer in the power of collaboration, and is a founding director of the Ontario Hay and Forage Producers Marketing Co-op, the Ontario Biomass Producers Co-op, and the Integrated Grain Processing Co-op, as well as a long-time volunteer with the Burford Fair, and past president of the Brant County Soil and Crop Improvement Association. He's also proud to be appointed a governor of the Royal Agricultural Winter Fair and the Canadian National Exhibition, and previously served on the board of the Ontario Trillium Foundation.
In addition to a strong interest in soil health and water quality, Larry has for decades championed the search for solutions to stray voltage issues affecting Ontario farmers. In his spare time, he enjoys singing with the Brant Men of Song and the Ontario Male Chorus.
Contact:
larry.davis@ofa.on.ca
519-758-7693