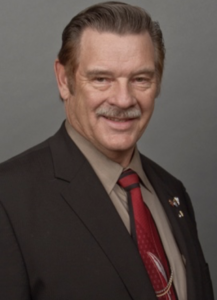 By Larry Davis, Director, Ontario Federation of Agriculture
The importance of safety on the farm can never be understated. These are vital conversations that need to be prioritized every day of the year. Whether you're out on the roadways or working in the barn, it's important to ensure that you, your family and your employees practice farm safety.
Each year, the Canadian Agricultural Safety Association (CASA) designates one week in March to raise awareness on the importance of practicing safety on and off the farm. As we gear up to recognize Canadian Agricultural Safety Week running March 13-19, the Ontario Federation of Agriculture wants to highlight the tremendous number of resources our farmers can access to ensure care and protection around the farm remains top of mind this planting season and beyond.
The importance of farm safety cannot be overstated, especially during the busy planting and harvesting seasons. While farmers across the province are working tirelessly to plan and prepare for the upcoming growing season, we'd like to remind all farmers of proper farm safety procedures to practice in your daily routine.
Road safety has always been a top priority for OFA. With increased numbers of farm vehicles and equipment hitting the roadways soon, we ask that our members remember the rules of the road and take the time to put safety first. Not only do we want to ensure the safety of our farming community, but we also want to make sure the motorists we intersect with get home safe to their families.
When driving on roadways, be sure to have your farm equipment on the paved portion of the road – not the shoulder. We also remind members to stay alert and focused while operating any sort of vehicle on the road. Keep off your phones and avoid situations that cause distractions. For farm equipment, be sure there is a visible slow moving vehicle (SMV) sign on all pieces of machinery, including tractors, combines, self-propelled vehicles, sprayers and any implement being towed. Furthermore, keep your maximum speed to 40km/h and take the time to check twice and signal well in advance when turning on and off busy roadways for drivers who may be anxious to race past.
This year, to continue raising awareness on the importance of understanding and respecting SMV signs, OFA intends on creating a promotional campaign to be shared with federations to further educate their communities.
Along with road safety, OFA encourages members to take the time to educate themselves, their families and employees on adequate on-farm safety practices. CASA has created several online resources for farmers looking to brush up on everyday safety procedures specific to farm businesses. These practical, hands-on resources can help keep everyone safe from planting to harvest.
Another beneficial resource available to farmers is Feeding Your Future's Ontario Agriculture Worker Safety and Awareness Certificate. This introductory training course was developed to help educate agri-food employees on farm safety practices. The course is packed with basic safety and creates the opportunity for new workers to understand on-farm hazards. The course also includes a module on the proper use of hand and power tools commonly used in agri-food businesses.
Along with basic safety knowledge, the certificate program also offers training modules focused on mental health and wellness in agriculture. Expanding awareness of mental wellness in an agricultural workplace and providing resources to get help is extremely important for new workers.
When talking about on-farm safety, mental health is just as important as physical safety practices. That means to keep everyone safe on the farm also means checking in on the emotional and mental well-being of family members and employees. Ensure that you are putting mental wellness first – when you're tired, learn to take breaks and rest. Practice self-care by making time for the activities you enjoy and spending time with loved ones. Self-care might seem selfish, but it is proven to help reduce burnout and ensures you show up ready to give tasks your best effort.
OFA is encouraging all our members to use these online resources and practice farm safety every week. Let's all do our part to ensure families across the province have a safe and successful growing season.
For more information, contact:
Tyler Brooks
Director of Communications and Stakeholder Relations
Ontario Federation of Agriculture
519-821-8883 ext. 218
tyler.brooks@ofa.on.ca