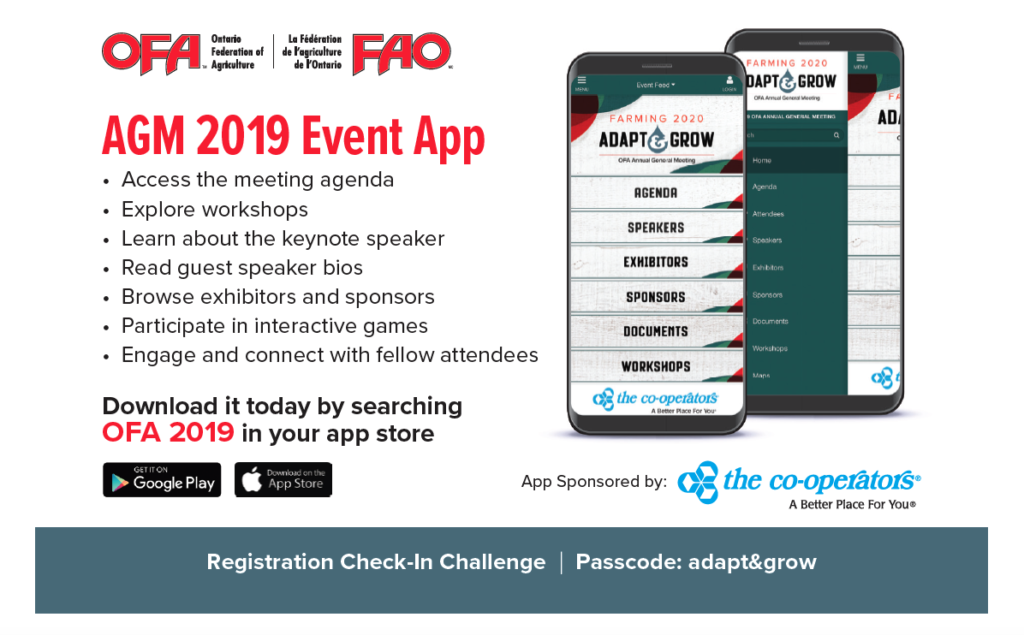 The official mobile app for the 2019 OFA Annual General Meeting is now available for download. Download the app by searching "OFA 2019" in your app store. This year's theme is Farming 2020: Adapt & Grow. Our theme reflects the flexibility and adaptability agriculture embraces every day as we drive the economic engine for Ontario.
OFA's annual meeting offers an exciting opportunity to share your thoughts, catch up with fellow Ontario farmers and take away new ideas for your farms.
The event brings together members, industry representatives and key stakeholders to discuss key issues impacting our agricultural and food industry, Ontario's rural communities, participate in progressive workshops, hear from government leaders and vote for OFA leadership.
Using this app, you can access the agenda and meeting highlights, learn about the keynote speaker, read guest speaker bios, explore workshops, view exhibitors and sponsors and engage with fellow attendees. The app also offers a fun and interactive gaming experience with a chance to win great prizes.
Download it on the App Store: https://apps.apple.com/us/app/ofa-agm-2019/id1485289105?ls=1
Download it on Google Play: https://play.google.com/store/apps/details?id=com.ofa.emofagm19
The event app provides the complete annual meeting package at your fingertips.