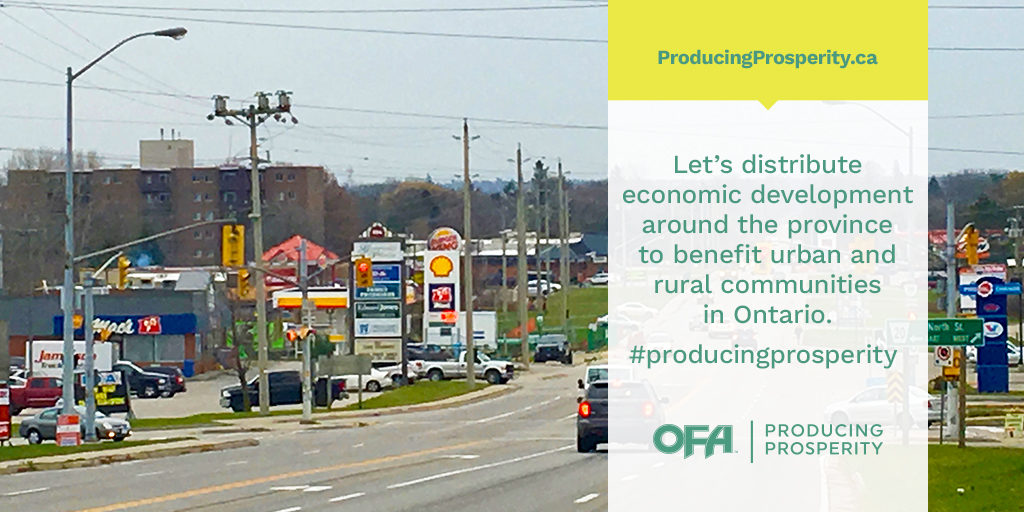 OFA's provincial election campaign – Producing Prosperity in Ontario – calls for greater investment in Ontario's agri-food sector and rural communities as an effective strategy to deliver economic growth and prosperity for all Ontarians.
Distributing development dollars across Ontario is the solution to ongoing challenges facing rural and urban communities. New investments in Ontario's rural communities will grow existing businesses, attract new companies and boost opportunities for regional economic development.
Distributing economic development will boost economic growth, create new jobs, new affordable housing options, ensure food security and contribute to environmental stewardship.
When we invest in our small communities, we improve the physical and social infrastructure in rural Ontario, opening up new opportunities for working and living in communities all across the province. This is good for rural Ontario and alleviates the stresses in our urban communities. It's a win-win.
Imagine what a new $1 billion investment in rural Ontario every year could do. We're asking all provincial election candidates to learn more about the long-term benefits of investing in our agri-food sector and our rural communities, as a way to boost economic growth and prosperity for all Ontarians.
Learn more about the key elements for Producing Prosperity in Ontario at producingprosperity.ca.