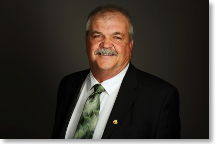 By Paul Maurice, Director, Ontario Federation of Agriculture
It's springtime in Ontario and after the long winter months, Ontarians everywhere are heading outside – for recreation, gardening, or in the case of farmers, for planting crops.
That means you'll see more large tractors and farm equipment on the roads as farmers travel from field-to-field and farm-to-farm to work their land and get crops in the ground. Many of those roads are also used by trucks and cars, which makes road safety for both farmers and motorists essential to help all of us prevent accidents.
I farm in Simcoe County, but as a board member with the Ontario Federation of Agriculture (OFA), I also represent farmers in York and Peel Regions. In all three of these municipalities, large urban centres are located near or next to working farms, so road safety revolving around farm equipment for farmers and motorists, from commuters to cottagers, is even more of a priority here.
Last year, the OFA launched a province-wide billboard campaign, accompanied by audio ads played during radio traffic updates, to draw attention to slow-moving farm vehicles and how motorists can safely share the road with large equipment. Many local federations of agriculture, including York Region, have also provided Slow Moving Vehicle (SMV) signs for farmers to properly identify their equipment and vehicles.
Farm equipment in general is much larger than it used to be, and many rural roads have narrow shoulders. This makes it difficult, if not impossible, for farmers to pull off to the side safely and let motorists pass. Space between a slow-moving vehicle and an ongoing car can close very quickly, so we urge drivers to pay attention to indicator lights – and to remember that passing cautiously is important to keep everyone safe.
This past month, the Simcoe County Federation of Agriculture hosted an agricultural road safety information day for elected officials, staff and local first responders in Innisfil Township. The goal was to help participants gain a better understanding of the size and scope of modern farm equipment and just what it means to share roads safely with motorists.
We also engaged in good conversations around what is needed to safely accommodate farm equipment when the municipality is designing new roads and bridges. The event was a pilot project that was very well received, and we hope to extend it to other municipalities in the future.
Spring doesn't just mean an increased need for road safety, though. It's also a time that farm families need to be vigilant about safety on their own properties, especially when it comes to keeping children safe.
That's why my local federation of agriculture in Simcoe County offers a program called Keep Kids Safe. It's been on hiatus for the last three years because of COVID-19, but it came back this spring with close to 70 children taking part in the event. The event was held at Huron Tractor in Stayner.
Through six different stations, kids learned about being safe around tractors, lawn mowers and all-terrain vehicles (ATVs). Local paramedics and firefighters reviewed tips on what to do in case of a fire or an accident and when to call 911, and Hydro One gave demonstrations around proper electrical safety.
Although designed for children, Keep Kids Safe has become a multi-generational event over the years, as some parents who attended when they were young are now bringing their own kids out for the safety training as well.
Farm safety is important for everyone on the farm, not just children. For adults, it means being aware of how to avoid accidents and injuries – especially during a busy and stressful time like planting. This includes things like keeping equipment fixed and up to date, taking a break when you're tired or fatigued, and not cutting corners when in a rush.
For more information, contact:
Tyler Brooks
Director of Communications and Stakeholder Relations
Ontario Federation of Agriculture
519-821-8883 ext. 218
tyler.brooks@ofa.on.ca