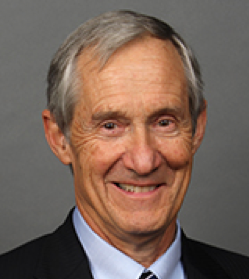 By Crispin Colvin, Director, Ontario Federation of Agriculture
In a few short weeks, Ontario's farmers will gather for the Ontario Federation of Agriculture's 2022 Annual General Meeting (AGM). It's an event I always look forward to, but even more so this year as we finally get the chance to gather again in-person after two years of virtual meetings.
I farm in Middlesex County and for the first time ever, the annual conference is going to be held in London on November 21-22 at RBC Place, so I look forward to welcoming my fellow farmers from across Ontario to southwestern Ontario.
The AGM is a special highlight on our annual event calendar as it's the one time of year that federation of agriculture members from all over the province can get together to talk about the issues that are important to farmers, help provide input to the provincial board of directors on policy directions, and enjoy the opportunity to get to know each other a little bit better.
For me, that ability to network and make connections with others in the industry is one of the highlights of this event every year. I represent farmers from Middlesex and Lambton counties on the provincial board, but the decisions we make are on behalf of all of Ontario's farmers, so it's important to have that opportunity to meet with people from other parts of the province and learn about what matters to them.
For delegates attending this convention, it's also the chance to speak with all the provincial board directors, connect with other farmers, engage with industry stakeholders, and speak with some of the many exhibitors that will be in attendance.
The other aspect that stands out for me about attending the annual meeting is the guest speakers. In addition to people who can speak about the hot topics of the day, OFA works hard to bring in presenters who can bring us new points of view and make us think about our worlds a little differently.
A highlight on this year's agenda, for example, is a keynote address by Jeff Adams, a former Paralympian and six-time world champion in wheelchair racing. He'll be joined by other speakers over the course of the two days who will cover topics like research and innovation and economic outlooks, and we'll also be hearing remarks from Ontario's Minister of Agriculture, Food and Rural Affairs, Hon. Lisa Thompson, and MPP John Vanthof, who is the Agriculture Critic for the Official Opposition in Ontario.
There's an educational component to the meeting as well with special workshops addressing key priorities like fraud and cybersecurity, risk management, financial fluency, farmland preservation and land use planning, and taxation.
And of course, we can't forget that this event is also first and foremost a meeting to conduct the business of our organization, a cornerstone of which is a session dedicated to resolutions. This is where delegates debate and vote on resolutions brought forward by county and regional federations across the province that will help direct the actions and activities of the organization for the year ahead.
These days, many farm and rural organizations are struggling to find people to fill volunteer positions, and yet it's never been more important for our voices to be heard. For farmers considering becoming a bit more involved in their industry, the OFA annual meeting is a great opportunity to learn more about the organization and what role they might want to play at the local, regional, or even provincial level.
Back again this year is the launch of the interactive AGM app for attendees to utilize during the event. Using this app, you can access the agenda and meeting highlights, learn about the keynote speaker, read guest speaker bios, explore workshops, view exhibitors and sponsors and engage with fellow attendees. The app is now available for download on the Apple App Store and Google Play Store.
A livestream of the annual meeting will be available on OFA's YouTube channel at youtube.com/ontariofarms or by accessing the link on our website at ofa.on.ca/agm. We invite everyone who can't join us in-person to catch the livestream beginning Monday, November 21 at 8:15 a.m.
The countdown is officially on, and we eagerly anticipate the opportunity to see and connect with everyone again.
For more information, contact:
Tyler Brooks
Director of Communications and Stakeholder Relations
Ontario Federation of Agriculture
519-821-8883 ext. 218
tyler.brooks@ofa.on.ca