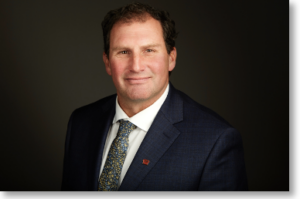 By Paul Vickers, Executive Member, Ontario Federation of Agriculture
Leadership recruitment and development are foundational to the long-term success of any business or organization. At the Ontario Federation of Agriculture (OFA), for example, attracting dedicated leaders and supporting their skills development plays a key role in our organization's management and succession planning approach.
The OFA is led by a board of directors who are chosen for those positions by farmers in designated zones across Ontario. In June every year, a certain number of board positions, which are three-year terms, are up for election – giving candidates a chance to put their name forward for a seat on the board and farmers the opportunity to vote for who they would like to be their representative.
The nomination period is currently open, and OFA is actively recruiting new leaders and interested candidates from among our more than 38,000 members who are willing to let their name stand for our provincial board.
As the largest general farm organization in the province, we represent 88% of Ontario's registered farmers and our 18 democratically elected provincial board members are the voice of those grassroots farmers on issues affecting agriculture and rural communities.
On their behalf, we take their views and concerns to all three levels of government, as well as industry organizations and other relevant stakeholders, depending on the issue at hand. We also help shape the policies and positions of our organization so that, supported by a strong staff team, we can credibly influence meaningful change for agriculture and rural communities.
Our bottom-up, grassroots structure means that all OFA members are able to vote, either electronically or by mail, for the director that represents their zone. As well, voting delegates at our annual general meeting in November elect our three at-large director positions.
I'm a dairy farmer in Griersville, about half an hour east of Owen Sound, and I first joined the provincial OFA board in 2019 as the representative for the counties of Grey and Bruce. I'd previously represented dairy farmers on the board of Gay Lea Foods, a leading Canadian dairy co-operative, where I progressed through the organization's leadership positions right through to serving as the board's chair. I've also served as a local councillor in our municipality.
For me, this kind of involvement represents an opportunity to step up and make a difference. For farmers, agriculture is our larger shared community and joining the OFA board was a way to give back to that community. If you want to effect change, you have to be part of the process to make that happen – and it can be very satisfying to be part of good leadership and exchanges that create positive outcomes for the people you represent.
All of the leadership positions I've had in agriculture have also been valuable ways to learn more about our own industry, whether that's farming in other sectors or in other parts of the province.
Agriculture today is highly specialized, and although farmers of all kinds have many things in common, producing maple syrup is also very different from milking cows, raising sheep or growing greenhouse vegetables, for example. It gives you a new appreciation for the diversity of the farming sector, the size and scope of Ontario agriculture, and the unique challenges and opportunities we face based on where we live and what we do.
For anyone out there contemplating putting their name forward for a leadership position, whether it's with the OFA or any other organization that counts on members of the community to step forward, my advice to you is simple: take the leap, get it in motion and don't be afraid of the outcome.
OFA's board director nominations are open until June 30, and the voting period will be open August 21 to September 8.
For more information, contact:
Rachelle Kerr
Communications Coordinator
Ontario Federation of Agriculture
519-803-4957
rachelle.kerr@ofa.on.ca