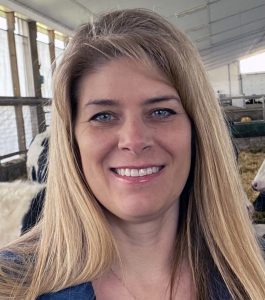 By Tracey Arts, Director, Ontario Federation of Agriculture
Food Day Canada encourages consumers across the country to shop local and celebrate the abundance of fresh and delicious Canadian food and beverages we enjoy every day. Let's connect the food we eat with those who grow and prepare it.
On Saturday, August 1, join in the Food Day Canada celebrations by purchasing locally grown and produced Canadian food to support your neighbouring farmers, your community and the local economy. When you buy local, you're choosing fresh, safe and nutritious food that is grown right here at home. Many farmers' markets are open on Saturdays where you can meet a farmer, talk to a local chef, and pick up ingredients for your evening meal. In Ontario, the diversity of our products is extensive as we grow and raise more than 200 different food commodities.
Food Day Canada recognizes that all Canadians have a role to play in the food supply chain, whether they are consumers, growers or producers. The initiative encourages butchers, hospitality staff, chefs, farmers, researchers, food influencers, and all other roles in the food supply chain to share their story and promote Canadian grown and produced food.
To coincide with the celebration of Food Day Canada, OFA released the Always in Season toolkit to provide resources, ideas and assistance to communities looking to support their local food producers and processors. Always in Season aims to increase local food sales, provide new opportunities for local producers for value-added agriculture, enhance agri-tourism and culinary tourism opportunities, and elevate the brand of local agricultural products.
The food supply chain has proven to be resilient and unwavering in its commitment to produce affordable, nutritious, high-quality food for Canadians, even in the midst of COVID-19. The global pandemic added pressure to workforce challenges in the agri-food sector, and Agriculture and Agri-Food Canada asked Canadians to Step Up to the Plate to help feed our nation. In an effort to provide our support and address labour shortages, OFA launched the Feeding Your Future initiative. The project aims to showcase the variety of careers in the food supply chain and encourage individuals of all backgrounds to pursue a career in the innovative and dynamic agri-food sector. Feeding Your Future's goal is to ensure the Canadian agri-food sector can continue producing, processing, and distributing locally grown food, for Ontario and beyond.
This weekend, Food Day Canada will Shine a Light on Canadian Cuisine with buildings and locations across the nation lit up in red and white to honour Canadian farmers, fishers, chefs, and home cooks. Thanks to our growers, producers and processors, we are cooking healthier meals for our families. OFA is a passionate promotor of food literacy, and we encourage Canadians to know who grows their food, how to source it locally, and how to prepare nutritious and affordable meals. Six by Sixteen is OFA's food literacy initiative and is a hub for resources including recipes that source Ontario-grown ingredients.
OFA is proud to represent 38,000 farm businesses that contribute to Canada's safe, strong and reliable food system on a daily basis. We encourage all farm families to get involved, show their passion for farming and food and share their story as part of Food Day Canada. We thank you, our members, for dedicating your livelihoods to agriculture so Canadian consumers can celebrate what's on their plate.
To engage and follow the festivities online, check out @FoodDayCanada and #FoodDayCanada or visit their website at fooddaycanada.ca.
For more information, contact:
Tracey Arts
Director
Ontario Federation of Agriculture
519-521-0747
Cathy Lennon
General Manager
Ontario Federation of Agriculture
519-821-8883