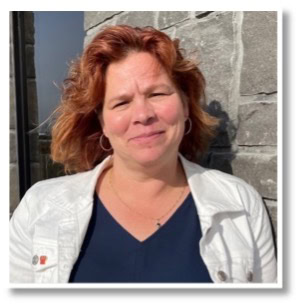 By Peggy Brekveld, President, Ontario Federation of Agriculture
The start of a new year is often a time for resolution and goal setting. Whether that goal is to walk more steps each day, grow a better tomato or win first place at the 4-H club show, each one requires us to look at what we want to achieve and find ways to get there.
As we start 2023, the Ontario Federation of Agriculture (OFA) is doing that too – as we're reflecting on the year that was and some of our achievements, we're also looking to the year ahead and what we'll be focusing on.
For me personally, the most important accomplishment for OFA over the past year has been the development and launch of the Farmer Wellness Initiative. Research has shown that farmers suffer from stress and mental health issues more than average Canadians, and we now have support available specific to the agriculture sector.
This includes a free bilingual helpline counselling service 24/7/365 by professional counsellors with agricultural backgrounds and training, available at 1-866-267-6255, thanks to a partnership with the Canadian Mental Health Association – Ontario Division and financial support from the provincial and federal governments.
In 2022, OFA was also very active in raising the profile of farmland preservation in Ontario. The newest census numbers paint a stark picture of the speed at which we're losing prime farmland in Ontario – 319 acres a day – to development and urbanization.
That statistic has been quoted hundreds of times this past year, and combined with our Home Grown campaign, has helped raise awareness of how important farming is to our province in terms of our communities, our economy, and the food that we eat.
Unfortunately, despite the best efforts of many people and organizations, including the OFA, the provincial government has decided to proceed with its plan to rezone thousands of acres of prime farmland in the Greenbelt to build new houses.
We will, however, continue to advocate for the protection of farmland and the importance of maintaining our ability to grow food, fuel, and fibre here at home. At the same time, we recognize the importance of addressing Ontario's housing crisis, and we will continue to work with government to propose workable alternative solutions to that issue.
We will also continue to focus on addressing the labour needs of agriculture and rural Ontario and attracting people to an industry that has room to grow. Together, we can help create a more sustainable workforce by prioritizing skill development and training and promoting jobs in the sector.
At the same time, Ontario needs continued investments in critical infrastructure like energy, broadband internet, roads, bridges, schools, and healthcare for rural communities so they can attract and keep new businesses and residents.
As the federal and provincial governments roll out the next agricultural policy framework this year, the Sustainable Canadian Agricultural Partnership, OFA will be looking to see how Ontario agriculture can continue to build on the environmental sustainability gains we've already made and help farmers more widely adopt the best management practices that have helped us achieve those gains.
It's a reality that the start of 2023 is very different from the start of 2022. Costs for fertilizer, packaging, fuel, energy and more have all risen as our economy grapples with inflation levels we haven't seen in years. Interest rates are up, and I believe all farmers are feeling the pinch. OFA will continue to support the industry as we have in past economic tough times.
We are looking forward to connecting again with you, our members. Winter is meeting season in Ontario, which means we'll be attending many annual general meetings in our own sector, and also attending conferences and events hosted by other organizations, such as the Rural Ontario Municipal Association and the Good Roads Association. Each of these will present an opportunity to make new friends and engage with politicians and other stakeholders in more informal settings about the issues that matter to farmers and rural Ontario.
So, as we start into 2023, I'd like to raise a glass and offer you our best wishes as you aim for your goals – and OFA will continue to work hard to help you reach them. To Farms and Food Forever.
For more information, contact:
Tyler Brooks
Director of Communications and Stakeholder Relations
Ontario Federation of Agriculture
519-821-8883 ext. 218
tyler.brooks@ofa.on.ca