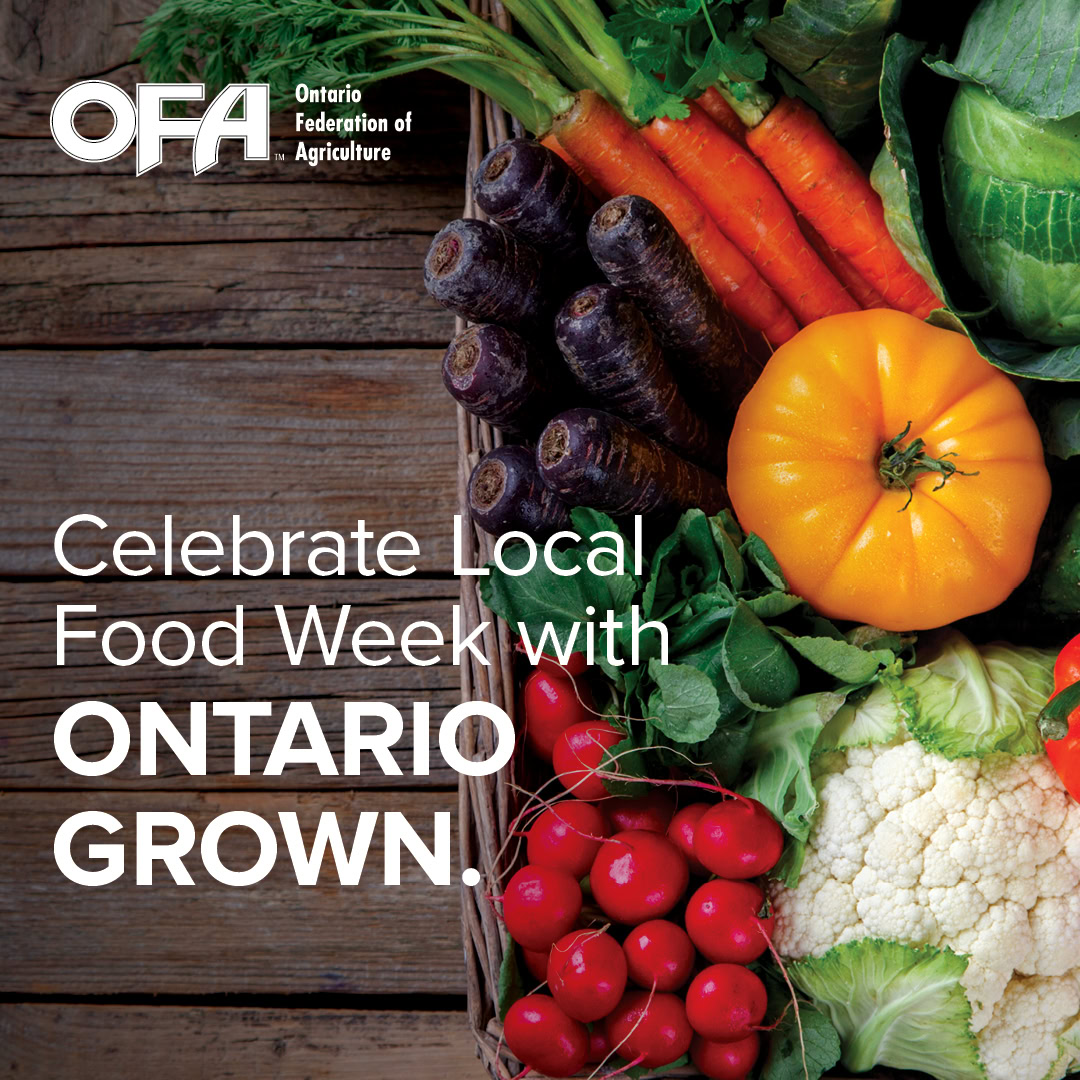 GUELPH, ON [June 1, 2023] – With more than 200 different crops and livestock being grown, produced or raised on Ontario soil, there is no shortage of ways to celebrate Local Food Week 2023.
Designated annually in the first full week of June — this year, June 5th to 10th — Local Food Week is a celebration of the bounty of fresh, healthy food grown, produced and processed right here in Ontario. It's the perfect month to commemorate local food as the growing season gains momentum, with early season favourites such as asparagus, field strawberries and rhubarb available. Farmers work daily to grow and produce fresh, safe and nutritious food for all Ontarians to enjoy — and perhaps the easiest place to enjoy a broad range of locally grown and raised food is at a nearby farmers' market — it's a great place to gather in-season goodies such as produce, flowers and herbs.
"Farmers' markets can be found in almost every community across the province and are a great place for Ontarians to connect with the people who grow their food," says Peggy Brekveld, President of the Ontario Federation of Agriculture. "Local food is fresher. It tastes better. It is packed with nutrients. Picking up your produce, grains, meats, cheeses and value-added products like jams, honey or maple syrup directly from the people who grew and raised it is not only good for your menu, but also a boost to Ontario's economy and helps underscore the importance of preserving our farmland."
Supporting local food matters; agriculture and agri-food contribute an estimated $47 billion to the provincial economy annually, making it one of the largest economic drivers in the province. From field-to-fork, more than 10 per cent of Ontario's labour force is employed in the agri-food sector in our province. Every piece of Ontario fruit, every Ontario vegetable, every egg produced, every dairy product processed and every cut of meat or poultry purchased from an Ontario farm supports that growth.
There are an estimated 180 farmer's markets across Ontario — plus countless road-side farmgate stands where farmers sell direct to passersby. Ontario produce currently in season includes asparagus, broccoli, cauliflower, cucumbers, peppers, green beans, mushrooms, lettuce, radishes, spinach and lettuce, along with all meats and poultry.
Find a farmers' market near you by visiting farmersmarketsontario.com. Additionally, be sure to check out community butcher shops, local restaurants and bakeries for fresh local food options.
Take a moment during Local Food Week to pause, reflect and celebrate how lucky we are to have easy, affordable access to high-quality foods.
The OFA's Home Grown campaign aims to raise awareness of the importance of preserving Ontario farmland for the production of food, fuel and fibre. It's a key issue for the province; based on data from the last Census of Agriculture, Ontario is losing an average of 319 acres of productive farmland every day. This is a worrisome decline for what is arguably the province's most essential natural resource — the arable land with which we feed people.
About the Ontario Federation of Agriculture
The Ontario Federation of Agriculture (OFA) is the largest general farm organization in Ontario, representing 38,000 farm families across the province. As a dynamic farmer-led organization based in Guelph, the OFA works to represent and champion the interests of Ontario farmers through government relations, farm policy recommendations, research, lobby efforts, community representation, media relations and more. OFA is the leading advocate for Ontario's farmers and is Ontario's voice of the farmer. For more information, visit www.ofa.on.ca.
About Home Grown
A public awareness initiative of the Ontario Federation of Agriculture, Home Grown is a campaign to advocate for the importance of Ontario farms as a source of food, fuel and fibre. Arable farmland is our most important natural resource, but Ontario is losing an average of 319 acres of farmland every day; that is the equivalent of nine family farms paved over every week. It is the objective of Home Grown to raise awareness about the importance of protecting and preserving Ontario farmland, while helping develop a workable plan to guide responsible development in Ontario that will ensure growth to provide housing and support local tax bases in a way that does not encroach on farmland.
Join the conversation on Twitter @OntarioFarms and Facebook /ontariofarms. For more information, please visit homegrown.ofa.on.ca.
For more information, contact:
Rachelle Kerr
Communications Coordinator
Ontario Federation of Agriculture
519-803-4957
rachelle.kerr@ofa.on.ca