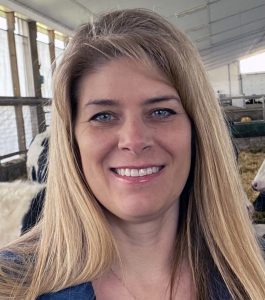 By Tracey Arts, Director, Ontario Federation of Agriculture
Without a doubt, it's a busy time of year as many of us look ahead to harvesting the crops we've nurtured and tended to this growing season. As the days get shorter, kids go back to school, leaves start to change, nights get cooler – it's evident that fall is upon us.
Fall is the opportune time to celebrate the bounty that is Ontario agriculture, the hardworking individuals that produce our food and to reconnect. Ontario farmers grow and produce over 200 different commodities, with many fan favourites such as apples, squash, pears, sweetcorn and much more coming in season.
As you make your pre-harvest to do list The Ontario Federation of Agriculture (OFA) encourages everyone to prioritize industry events, sourcing local and reconnecting with peers. It's been a long two-years with cancelled events, pivots to virtual platforms and we're greatly looking forward to re-connecting with our members in person this fall.
After a two-year hiatus, Canada's Outdoor Farm Show (COFS) and the International Plowing Match and Rural Expo (IPM) are making a much-anticipated return to in person exhibition.
COFS is an annual highlight for our organization as we host OFA members, industry partners and fellow stakeholders inside Federation House. Our theme this year is 'celebrating Ontario agriculture' with local cider, coffee, and insulated grocery totes as complimentary giveaways to members. This year's show runs September 13-15 with OFA Member Service Representatives and board members on site to connect with members on farming, issues, concerns, or shared highlights of the event. Our benefit partners Farm Life, Scotiabank, Better Farming, Cooperators and Farm & Food Care Ontario will also be exhibiting inside Federation House and are eager to connect with you. One lucky OFA member will win a YETI cooler filled with local food products from Oxford and Elgin counties.
For me, COFS is a great way to reconnect with people you haven't seen in years. People are coming from all over the province from all facets of the sector. I always find myself running into people I went to college with, industry reps and peers. It's also filled with resources and the opportunity to see new technology, farm equipment, livestock information, demos, and crop plots. I find it especially valuable to learn about the new crop varieties that are more tolerant to extreme weather conditions. There is so much to see and do for the whole family.
If you're unable to make it to COFS, you can also find us at the 2022 IPM in Kemptville September 20-24. OFA staff and executive will be on site and look forward to chatting with members in the booth. A variety of displays will be set up promoting local food, farm safety, food literacy and OFA's benefit program. Members will also be treated to complimentary popcorn, apples, and giveaways.
For many in our industry COFS and the IPM have become family traditions where we schedule a day off the farm to visit with our suppliers, neighbours, and friends. You can also make sourcing local Ontario foods a family affair by making a yearly trip to the pumpkin patch and apple orchard for a day of pick-your-own. Every year my family goes pumpkin picking and we have so much fun selecting, decorating, and carving our pumpkins together. It's a great time of year to source local, support local farmers and connect with the growers in your community.
I encourage everyone reading to attend a fair, agricultural tradeshow, and source local this fall season. Make the time to re-connect with your food, peers, and your representatives at OFA.
For more information, contact:
Tyler Brooks
Director of Communications and Stakeholder Relations
Ontario Federation of Agriculture
519-821-8883 ext. 218
tyler.brooks@ofa.on.ca