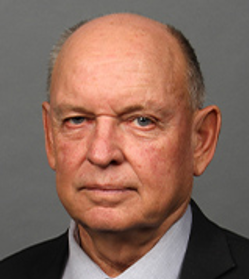 By Louis Roesch, Director, Ontario Federation of Agriculture
This year has been a whirlwind of hurdles and challenges, often times with rules and regulations changing by the hour. The holiday season is another reminder that the pandemic continues to change life as we know it. In true farmer fashion, no obstacle can hinder your values of community, kindness and generosity.
There is no doubt that every single one of you has helped your neighbours in some way during these challenging times. The Ontario Federation of Agriculture (OFA) has been overwhelmed by the tremendous acts of kindness from Ontario's farm sector that have flooded social media platforms, newspapers and news outlets this past year. For Food Freedom Day 2020, the Kent Federation of Agriculture, with the financial support of many local farm suppliers, were able to process and deliver 3000 pounds of ground pork to the Salvation Army and local food banks. Collectively, our sector has selflessly donated to food banks, hospitals, community members in need and has been a beacon of positivity in difficult times.
As we close this chapter on a fantastic year of giving, we have one more ask of Ontario's farming community. Our ask is that you continue to support your community by purchasing locally this holiday season. Supporting local can make a world of difference to your fellow entrepreneurs. Supporting local goes full circle by also supporting the agriculture sector.
Celebrate the strength and resilience of Ontario's agri-food sector by filling your holiday plates with nutritious, local, affordable produce and meats. If possible, purchase directly from your local grower and producer or look for the Foodland Ontario logo when shopping at the grocery store. Source freshly baked goods from the local bakery, spirits from local wineries and meats from the local butcher.
When decorating for the holidays, consider purchasing your evergreen arrangements and poinsettias from your local greenhouse or florist. Visit your local tree farmer if looking for a live Christmas tree to brighten up your home.
When getting in the giving spirit, look to locally-owned stores for unique and personal gifts for your loved ones. Your region likely boasts many woodworkers and artisans available to make custom pieces. Give the gift of local food with a gift certificate to your favourite restaurant or farm store.
The provincial government has emphasized that supporting local will be instrumental for Ontario's post-pandemic economic recovery. With the creation of the Ontario Made website, consumers can browse 750,000 products proudly made in our province. Products range from clothing, food, beverage, accessories, home, garden, technology and more.
Last week Minister Sarkaria launched the "Support Local" Holiday Campaign to encourage Ontarians to support local businesses this holiday season. The campaign urges consumers to order takeout from a local restaurant, shop online, use curbside pickup, buy gift cards and shop locally as well as safely by wearing a mask. The goal of the campaign is to help small businesses regain revenues lost due to COVID-19 and help main streets stay local.
Personally, I am overwhelmed by the support and encouragement our family farm has received from the local community throughout COVID-19. Our family-owned farm produces feed for our hog and layer operation, processes our pork and grades and sells our eggs to consumers at the farm gate. We want to thank all Ontarians who made the conscious decision to support local. Ontario's farming families can't thank you enough for your kindness, patience, support, and word of mouth that brought new patrons through our doors.
Every farmer is an entrepreneur. We know the risks and rewards of owning and operating our own businesses and are grateful for the customers who support us. This is a perfect season to pay it forward.
For more information, contact:
Peggy Brekveld
President
Ontario Federation of Agriculture
807-707-2814
Louis Roesch
Director
Ontario Federation of Agriculture
519-351-7711