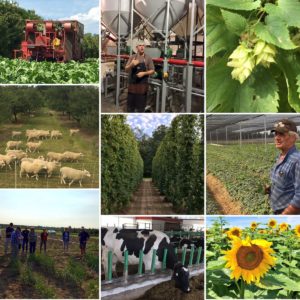 The Ontario Federation of Agriculture (OFA) Board of Directors travelled to Norfolk County last week for their August board meeting and annual summer farm tour. OFA's farm tour, which was hosted by the Norfolk Federation of Agriculture, Haldimand Federation of Agriculture and Brant County Federation of Agriculture, provided OFA directors with an opportunity to experience and learn about the diverse agricultural area of Brant, Haldimand and Norfolk.
A committee compiled of the county federations, regional directors, OFA's Zone Director and OFA's local Member Services Representative led the tour showcasing innovative and progressive farming operations, agricultural productions and value-added opportunities across the region.
The tour included visits to a robotic dairy operation, gingseng garden, tobacco production, multi-generational farming operation using sheep to manage grass growth in orchards, precision technology, dairy goat operation, cold-pressed oil production, pick your own fruit and vegetable farm, on-farm market, local brewery farm and research plots at the University of Guelph Research Station in Simcoe, ON.
OFA's summer farm tour offers a great opportunity to speak with local members about the challenges facing Ontario farm businesses.