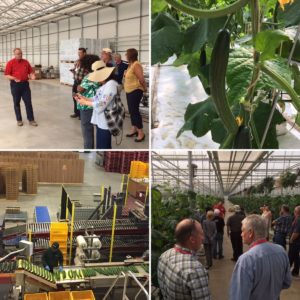 A vertically integrated English cucumber farm in Dundas, ON was the venue for OFA's 2017 Field Day held on Thursday, August 10. The annual summer event is an opportunity to engage with MPPs and their staff in an informal rural setting.
This year's event was hosted by Beverly Greenhouses, which is owned and operated by brothers Jan and Dale VanderHout. The innovative and progressive family farm offered a great opportunity to showcase Ontario's greenhouse industry.
More than 60 people attended Field Day, experiencing the innovation and diversity that fuels our provincial agri-food sector. MPPs and staff enjoyed a tour of the cucumber greenhouse, packing plant and lunched on locally grown and produced Ontario food.
OFA was able to start and continue conversations about new and ongoing issues affecting our 36,000 farm business members. Many of the discussions at Field Day will carry on into the fall legislative session as part of OFA's ongoing advocacy efforts.