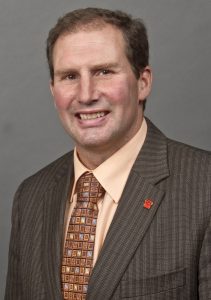 By Paul Vickers, Director, Ontario Federation of Agriculture
We have all seen the recent headlines highlighting the rising cost of groceries and cost of living. Whether you live rurally or urban; everyone is feeling the impact of inflation and the increased cost to feed our families. It's more important now more than ever before to support your community growers and producers by sourcing local.
You may be generations removed from the family farm, but you and I have more in common than you think. I identify as an Ontario dairy farmer, but I also fill the role of father, spouse, son, friend, colleague, volunteer and consumer.
Just like you, I purchase groceries for my family, have passed-down traditions, favourite recipes and care about the quality, freshness and origin of the food on my plate. My values are deeply rooted in community, family, environment, and sustainability. As a farmer these values are reflected in the daily effort that goes into nurturing my livestock and crops. As a consumer my values are reflected in my conscious decision to source local as often as I can.
Ontario's farming families dedicate their livelihoods to grow over 200 food, fibre, fuel and floral items ultimately feed the province, country, and world. The commodities they produce feed their own families and communities too, which is why you can rest assured that Ontario food is nutritious, delicious, high quality and environmentally sustainable.
Whether you live on a farm, in a rural village, in a sub-urban community or in downtown Toronto, we are all connected through our shared values and principles. At the end of the day, we universally care about our families, neighbours, environment, food security and the food on our fork. We have a lot in common.
To highlight our shared values and commonalities the Ontario Federation of Agriculture (OFA), in partnership with Farm & Food Care Ontario, launched the Source Local initiative. The year-long pilot project aims to connect farmers, families and all links of Ontario's food value chain through shared values and principles. Additionally, its goal is to raise the profile of local food and Ontario's agri-food sector.
The project was announced November 2021 and OFA's 51 county and regional federations were invited to apply to secure an activation in their area. To date, 18 county federations have been approved for the project, with three federations already completing their Source Local venture. Popular project themes include friend a farmer, ag hits the trail, farmers and food trucks, drive-in movie nights and virtual doors open farm tours.
On April 23, 2022, the Grey County Federation of Agriculture exhibited at the Owen Sound Earth Day for their Source Local activity. I attended as the Zone Director and helped to hand out seed packets and Real Dirt on Farming magazines to attendees. We also had a photo board cut out with farm animals for pictures. The kids really loved our booth and were so excited to go home and grow their own flowers. It was also a great opportunity to have a brief but impactful conversation with parents and connect one-on-one. It's important that we help connect the dots between where food is grown, how its grown and who grows it. It was a fun, lighthearted day that opened attendees' eyes to the importance of farmland preservation and sourcing local.
Throughout the year, Source Local activations will be taking place across the province. There are four provincial events planned for Thunder Bay, London, Ottawa and Halton region. The events will include local food samples, agricultural education exhibits and the opportunity to connect with community farmers. They each take place during Ontario Agriculture Week with the goal of bringing people together, connecting over our shared love for local food, celebrating Ontario's agriculture industry and encouraging everyone to fill their plates with Ontario grown food at Thanksgiving.
You can source local everyday by visiting your community farmers' market, buying direct through farm gate sales and by looking for Ontario grown and produced identification at the grocery store.
I encourage everyone reading to attend as a spectator to learn more about Ontario agriculture or volunteer as a farmer to connect with Ontarians and promote the sector at a Source Local activation near you. To learn more about the program, visit sourcelocalontario.ca.
For more information, contact:
Tyler Brooks
Director of Communications and Stakeholder Relations
Ontario Federation of Agriculture
519-821-8883 ext. 218
tyler.brooks@ofa.on.ca