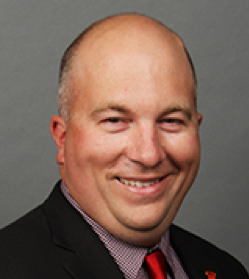 By Drew Spoelstra, Vice President, Ontario Federation of Agriculture
Farming is often a family affair. As the saying goes "many hands make light work" and even the smallest of hands can lighten the workload. With Ontario's extension of school closures and e-learning, farm kids across the province will be spending more time on the farm looking to get their hands dirty.
For many, spending added time with family is welcome news. The farm is a place for life lessons, family time and the creation of memories that last a lifetime. However, the farm can also be a dangerous place with many hazards such as large equipment, livestock and busy driveways. As summer break approaches, the Ontario Federation of Agriculture (OFA) wants to remind members to keep farm safety a top priority.
With children spending more time on the farm, with limited access to friends and extracurriculars, it is a great opportunity to emphasize farm safety and teach children how to take precautions and identify hazards.
Educating and reinforcing safe farming practices will ensure the safety of current and future generations. Farm accidents can happen within seconds, but they are less likely to occur when appropriate safety measures are in place. Regardless of the time of year and busyness, safety on the farm should always be a top priority.
Currently, my wife and I have been running our farm and seed business with two small girls at home. Our priority is to raise our children in an environment where they can be comfortable around equipment and animals, while feeling safe playing in their backyard and experiencing all that farm life has to offer them. We hope to educate them on proper safety measures as they continue to grow and want them to internalize the importance of farm safety.
One of our primary hazards is the large farm equipment entering and leaving the farmyard, especially during planting season. From the cab of the tractor, it can be difficult to have a clear view of small kids if they are too close. To mitigate the risk of any accidents, we remain very mindful of keeping an eye on the kids if they are outside or keep them inside for an afternoon if we know the laneway is going to be busy with traffic. Oftentimes, that's the difference between keeping them safe and exposing them to danger.
Additionally, children need to learn that they should never approach running or moving equipment. We know that kids get excited to see Mom or Dad pull in the driveway after planting with the big tractor, but keeping their distance is the best way to ensure their safety.
As parents, looking out for our children's safety is second nature. But it is also important to ensure your farm employees prioritize safety as well. All farm employees and equipment operators should be mindful of kids in the farmyard and drive slowly when entering and exiting. Before starting an ignition, circle checks should be performed on all equipment to ensure little ones are not hiding underneath or in a blind spot.
For visitors that are not familiar with your farm, using "children playing" signage helps to communicate with input suppliers or maintenance workers to keep an eye out for kids when entering the property.
It is also important to identify which farm jobs are safe for children to partake in and which ones put them in danger. We all want to spend time together in the barn, in the field, in the tractor and with the livestock. But some farm tasks require your full attention, which leaves children unattended.
If we're spending a full day riding through one field, without constant hopping in and out, the girls can ride in the buddy seat. If they are in the tractor, we make sure they are buckled up and know not to touch anything. Please remember that if your farm equipment only has one seat, it is not safe for the kids to tag along. This rule also extends to lawn-mowing equipment which can be just as dangerous as a large tractor. Each rider needs their own seat belt to be safe.
When the farm demands your full attention, it's okay to lean on your family and friends for support. They can help alleviate stress, pressure, and treat the kids to a special visit. It takes a committed team to make the family farm dream work.
When accidents do occur, that are tragic and unavoidable, it is important to have a response plan in place. Take advantage of farm safety signage, training programs and safety resources. Farm 911 The Emily Project provides 911 signs to second entrances, uninhabited land and farmland that otherwise would not be quickly located by first responders. Losing a child is every parent's worst nightmare and when tragedy strikes every second counts.
Summer is best spent on the farm with your family watching the crops, animals and children grow. We wish all our farming families a relaxing, memorable and safe summer. For more farm safety resources visit https://ofa.on.ca/issues/farm-labour-safety/
For more information, contact:
Tyler Brooks
Director of Communications and Stakeholder Relations
Ontario Federation of Agriculture
519-821-8883 ext. 218
tyler.brooks@ofa.on.ca