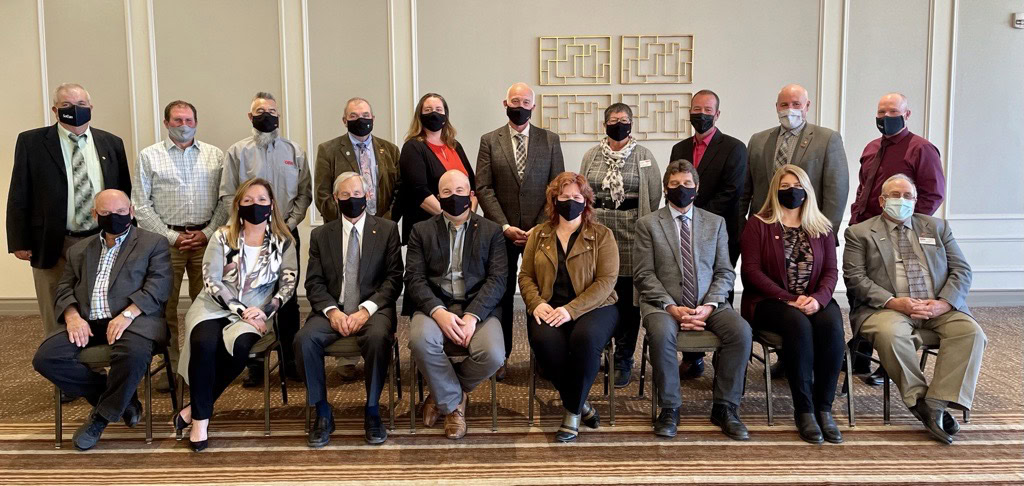 By Board of Directors, Ontario Federation of Agriculture
Strong leadership is the foundation of any government, organization or business. What makes Ontario's agri-food industry resilient is the abundance of strong and confident farm leaders we have building a bright future for the next generation.
The Ontario Federation of Agriculture (OFA) prides itself on having quality leaders at all levels of its organization; from our county and regional federations to the provincial board table. OFA strives to foster young leaders and encourage them to get more involved in different areas of the industry as an opportunity to develop the skills necessary to drive success for the agri-food sector and their communities. We recognize that encouragement, positive feedback and mentorship can be extremely valuable to those venturing into a leadership role for the first time.
As a grassroots organization, we believe the support and development of leadership starts at the local level. As part of our strategic direction, we have regularly reached out to engage young leaders and get them involved in provincial advocacy efforts, meetings and discussions. These opportunities provide our grassroots with the opportunity to engage in a leadership capacity, personal growth and with experiences that will positively develop leadership skills.
Ethan Wallace, an active farm leader and grassroots member in his community, utilized these opportunities to not only enhance his knowledge and interest of OFA's government relations work but to also learn from board members who have developed into a leadership role. These leadership and skill development opportunities helped to encourage him to take the next step and run for Zone Director in his respective region. Last month, Wallace was elected by the membership in Huron and Perth counties to represent their interests on the Board of Directors. He begins his new role immediately following the 2021 Annual General Meeting in November.
At the provincial level, OFA is fortunate to have many board members around our table that have graduated from the Advanced Agricultural Leadership Program (AALP). As a proud founding member and longstanding support of AALP, the organization invests in the next generation of farm and rural leaders by contributing financially and sponsoring OFA staff and board members as a professional development opportunity. OFA recognizes AALP as a premier leadership program in Ontario that provides participants with a diverse perspective and opportunity to expand their knowledge of the industry.
OFA appreciates the ongoing commitment of the Rural Ontario Institute (ROI) to continue to develop leaders and facilitate collaboration across Ontario. Programs such as AALP can significantly benefit individuals and organizations in the sense that it focuses on elevating leaders in agriculture and rural communities while positioning graduates to take action and help make meaningful change and contributions to their communities.
Peggy Brekveld, OFA's President and a Class 12 graduate, shares that this program served as a catalyst in helping to get her to where she is today. The experience helped to strengthen her leadership skills and qualities. This program broadened her knowledge and understanding of the industry, while also giving her more confidence as a leader.
Directors Jackie Kelly-Pemberton and Paul Vickers graduated from Class 14 together. The program provided Kelly-Pemberton with the tools and knowledge she needed to move towards her goal of getting more involved in Ontario's agri-food sector. "AALP gave me a new perspective on the industry and helped me to better understand issues and priorities from a policy level," said Kelly-Pemberton.
For Vickers, AALP taught him how to think more strategically and look at situations in terms of the bigger picture.
Director Teresa Van Raay believes it was the perfect environment to challenge yourself and build confidence in your leadership development. "AALP gave me opportunities to speak, present, and lead," she explained. "I strongly recommend this program to anyone interested in developing leadership skills, as it opens up your network in the alumni and provides the freedom to make mistakes and learn from them."
Jennifer Doelman, Director and Class 11 participant, shares that the program opened her eyes to the impacts positive leadership can have on a community. "Not only did I gain the skills I needed to become a leader, but it has also provided me with a unique understanding of the industry and food value chain." OFA Vice President, Mark Reusser had a similar experience, sharing that AALP is the perfect opportunity for expert leadership training to help expand your mind and knowledge. In his experience, the greater goal of the program is to immerse yourself in the process and share your insight with potential new leaders in your community.
Along with board members, OFA has encouraged and supported staff to take advantage of this experience. Danielle Collins, Economic Development Policy Analyst, explains how the program provided her with more information than you could ever find in a textbook. "The hands-on experience, educational training and connections made throughout this journey have helped me expand and grow as a leader," detailed Collins.
This past week, the participants of AALP Class 19 were announced, which includes another OFA representative in Director Tracey Arts. "I'm excited to be accepted into the program," said Arts. "As a Director, I'm here to strongly serve OFA members, and AALP will broaden my agriculture knowledge, network and ability to advocate for the sector." The organization is sponsoring Arts' involvement as a professional development opportunity. We look forward to following and supporting her throughout this experience as she continues to passionately contribute to the betterment of agriculture and rural Ontario.
With strong, confident and knowledgeable leaders at the table, the potential for economic growth and development in agriculture and our rural communities remains endless. If you've ever considered getting involved and taking on a leadership role, don't hesitate to reach out to your local federation or an OFA board member.
For more information, contact:
Tyler Brooks
Director of Communications and Stakeholder Relations
Ontario Federation of Agriculture
519-821-8883 ext. 218
tyler.brooks@ofa.on.ca