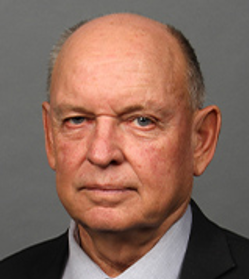 By Louis Roesch, Director, Ontario Federation of Agriculture
It's fall in Ontario and harvest is in full swing on farms across the province. It's an important time of year for farmers as it's when we bring in the crops we've been nurturing all season long and prepare our fields and farms for the winter season.
It also means that there are more tractors, combines, and other farm equipment on the road than normal. I farm in Chatham-Kent near Chatham, where we grow a lot of processing tomatoes, corn and soybeans, so you're likely to see a lot of tractors, wagons, and trucks on the road hauling those crops to processing plants, grain elevators and on-farm storages at this time of year.
The crops may be a bit different in other parts of the province, but you'll still see a lot of farm vehicle traffic, which makes road safety for both farmers and motorists absolutely essential to help all of us prevent accidents.
In Essex County, our local federation of agriculture has partnered with ADM Windsor, Corteva Canada and Essex Grain Farmers to draw attention to the importance of harvest season road safety by producing and releasing a video message through Bell Media's Fields to Forks campaign. Our goal is two-fold: we want to remind farmers to be cautious on the road and encourage motorists to be patient and alert around slow-moving vehicles.
Many rural roads have narrow shoulders, which makes it difficult if not impossible for farmers to pull off to the side safely to let motorists pass. A gap between a slow-moving vehicle and an ongoing car can close very quickly, for example, so we urge drivers to pay attention to indicator lights – and to remember that passing safely is important to keep everyone safe.
This year, the Ontario Federation of Agriculture (OFA) also launched a province-wide billboard campaign, accompanied by audio ads played during radio traffic updates to draw attention to slow-moving farm vehicles and how to safely share the road with these large pieces of equipment.
A committee of OFA board members and staff gathered input from local federations of agriculture across Ontario to identify which roads and highways would let us reach large numbers of motorists travelling to and from work or the cottage, for example. The call-to-action to lead a campaign about SMV signs and farm equipment on the roads was brought forward by the membership as a resolution at a recent Annual General Meeting. As an organization, we see this as an investment in the safety of our members and the public.
I know that in my area, we've seen a positive impact from this campaign. It's very common to have two or three accidents involving slow-moving farm traffic per season, and so far, we've been accident-free.
Farm safety isn't just about roads and traffic, though. It's also about physical, emotional and mental health. There have been many studies done in recent years about the high stress levels felt by farmers, and harvest is a particularly stressful time of year.
A lot of work that needs to happen in a relatively short period of time and if the weather doesn't cooperate, equipment breaks down or there are labour shortages, it can add additional stress to an already extremely busy season.
This is where the Farmer Wellness Initiative can help. It includes a confidential telehealth line that makes mental wellness support available free of charge to all Ontario farmers and farm families 24 hours a day, 365 days a year in English and French, as well as up to 30 other languages.
With funding from the Canadian Agricultural Partnership, a five-year federal-provincial-territorial initiative, OFA has partnered with the Canadian Mental Health Association (CMHA) – Ontario Division and LifeWorks to develop and launch this initiative. It is the first step of a multi-year, province-wide program that provides free counselling services virtually, in-person or on the phone by professional counsellors with agricultural backgrounds and training. OFA and its partners graciously appreciate the continued support for this initiative from Ontario government and specifically Hon. Lisa Thompson, Minister of Agriculture, Food and Rural Affairs.
If you're feeling anxious or overwhelmed, you can reach the mental health helpline for farmers at 1-866-267-6255, and additional resources are available on the Farmer Wellness Initiative website.
And finally, farm safety also means just generally being aware of precautions you can take on the farm to avoid accidents and injuries – especially during harvest. That means keeping equipment fixed and up to date, taking a break when you're tired or fatigued, and even though it might be tempting, not cutting corners when you're in a rush.
Be kind to yourself and keep safety top of mind this harvest season.
For more information, contact:
Tyler Brooks
Director of Communications and Stakeholder Relations
Ontario Federation of Agriculture
519-821-8883 ext. 218
tyler.brooks@ofa.on.ca