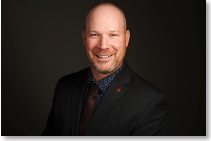 By Ethan Wallace, Director, Ontario Federation of Agriculture
The belief in the strength of community and of giving back runs deep in Ontario, particularly in rural areas of our province. Two years ago, when many farming and rural communities were struggling under the burdens and impacts of the pandemic, the Ontario Federation of Agriculture (OFA) created its Revive Fund.
It's a program that provides funding to help our 51 county and regional federations plan, develop and launch projects and initiatives in support of agriculture and their local communities – and our local organizations have stepped up with many impactful ideas.
Over the past two years, OFA has invested more than $200,000 to support projects in 36 counties and regions across Ontario. These run from farm and road safety signage and training to teaching people about farming, promoting local food, supporting food banks and more.
I farm in Huron County and our local federation of agriculture partnered with agricultural businesses in our region to do a Slow-Moving Vehicle signage campaign. We replaced faded or missing signage and stickers on farm equipment to help raise awareness among both farmers and motorists on how critically important road safety is, especially at busy times of the year like planting or harvest when there is more equipment on the road.
And this year, we're taking advantage of our unique position near Lake Huron's cottage country to promote food and farming to cottagers and tourists on the way to the lake. We'll be handing out insulated OFA Farms and Food Forever bags to long weekend grocery shoppers with information about Huron County as well as a copy of the popular Real Dirt on Farming publication to give them some insights into what agriculture is all about.
Other Ontario projects this year will focus on agritourism, bus tours for local municipal leaders or food influencers, signage to help passersby identify crops, events that focus on the future of farming, and even a weather station program that will help the local community benefit from more detailed weather forecasting.
I'm proud of how our local federations of agriculture have embraced this fund and have identified needs in their communities that they can help address with their innovative project ideas. It's also great seeing OFA as a provincial organization support more investment into initiatives like the Revive Fund that will help bridge the gap between urban and rural residents.
Farming is most often thought of something that happens far from our urban centres, rele­gated to small towns and rural areas with few connections to towns and cities. After all, less than two percent of Canada's population is involved in farming and the closest many Ontarians ever get to a farm is shopping at a local farmers' market or visiting an agri-tourism at­traction near an urban area.
We all need to eat, but farming and food production also support and influence every major aspect of life in our province, from jobs and food security to health care and the environment, which makes agriculture in today's world as much urban as it is rural.
When I think of the cottagers that come to Huron County for the weekend, for example, where we live and what we do might be quite different, but there is more that connects us than we might think. We share many common values like family, community, a love of food or a desire to protect the environment so we can leave a better world to our children.
You can learn more about the many impactful local projects that have been supported through the Revive Fund on the OFA website.
For more information, contact:
Rachelle Kerr
Communications Coordinator
Ontario Federation of Agriculture
519-803-4957
rachelle.kerr@ofa.on.ca