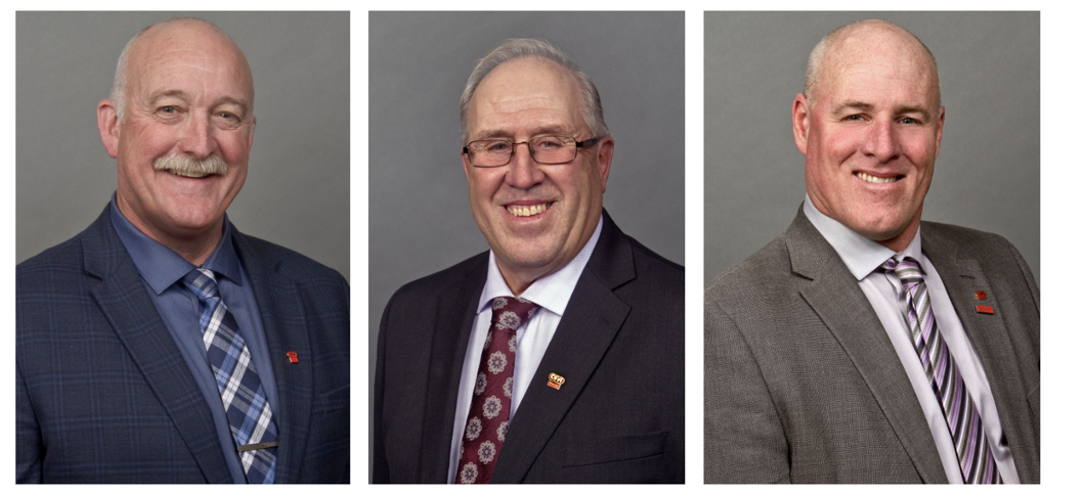 By Keith Currie, Rejean Pommainville and Brent Royce, Directors, Ontario Federation of Agriculture
Later this year, we will be saying goodbye to three valued members of our board. Serving on a board is a great honour and these three farmers, nominated by our membership, have dedicated their time to representing the best interests of 38,000 farm families in Ontario.
The Ontario Federation of Agriculture (OFA) would like to thank these individuals for their commitment to the betterment of our agri-food sector. As they prepare to step down from their leadership roles, we would like to take this opportunity to highlight their accomplishments and experiences. We have sat down with each exiting leader to share personal stories and reflections from their time as an OFA provincial director.
Keith Currie has served on OFA's board as both President and Zone Director for Peel, York and Simcoe. "The most rewarding aspect of serving on OFA's board was having the ability to work at a provincial level and see how our local communities fit into the bigger picture," says Keith. "We often use examples from our regions to work on policy change at a higher level."
Keith was motivated to get involved with OFA through his interest in politics. While being involved at the county level, he was always happy to have the opportunity to improve Ontario's agriculture sector for future generations. "It's a unique experience. Becoming a part of OFA's board has given me the opportunity to understand just how vast and complex this industry is," Keith explains. "I've enjoyed learning about the differences and similarities across our sector, as well as how to talk to and relate to people in and out of the agriculture community."
When asked why others should dedicate their time and get involved at a provincial level, Keith shared that although challenging, it is a rewarding and impactful experience. "It's vitally important that OFA has a key relationship with the Ontario government as we represent the biggest economic driver in the province. Having a collaborative relationship with the government, regardless of the leading political party, provides the opportunity to push for more resources and help this industry grow."
Next, we spoke with Rejean Pommainville, Zone 14 Director representing the counties of Stormont, Glengarry, Prescott and Russell. Like Keith, Rejean shared that the most rewarding aspect of joining OFA's board was having the ability to represent the organization at a larger level and evoke positive change. "I've dedicated 40 years of my life to OFA and have always enjoyed the organization and the opportunities to get involved," says Rejean. "If I had stayed at the local level, my ability to evoke change would have been limited. Getting involved provincially provided me first-hand experience and allowed me to develop deeper relationships within the sector and with government policymakers."
A piece of advice Rejean shared for those looking to get involved is not to be afraid of the role. He explained that the role is full of opportunities to learn and grow. "People in my family are proud of my accomplishments and the work that I have done. I believe the time has come for me to let the new generation of leaders step in and share their vision."
Rejean believes that as technology continues to progress, the organization could benefit from new voices and perspectives who are knowledgeable about the reality of the changes agriculture is facing. "OFA is doing a great service to our 38,000 farming members in Ontario, and I am really proud to have been involved at a provincial level for the last nine years".
Lastly, we sat down with Brent Royce, Zone 7 Director representing the counties of Huron and Perth, to discuss his experience on OFA's board. Brent shares that the most rewarding part of his experience is seeing how the organization has grown in the last nine years and feeling as though he has served agriculture for the better.
"I had the drive to improve agriculture and I felt as though I had things to contribute at the provincial level," Brent shared. Brent believes that there is a lot of talent at the local level and encourages members to step up and embark on a new challenge of serving OFA on a provincial platform. "Our members have great potential and passion for our sector. I am eager to see new faces and skills come forward."
The greatest lesson he learned was how much background work, research, consultation and time it takes to make change happen through the development of policies. Brent's advice to upcoming leaders is that if you possess leadership abilities and passion for the sector, take the initiative to get involved. "You will experience a lot of personal growth, expand your network and make change happen. Don't be afraid to try it."
OFA is grateful for the time and dedication these directors have given on behalf of OFA's 38,000 farm families. "Keith, Rejean and Brent have each played a special and unique role on this board and demonstrated leadership for their regions and this province. We thank each of you for all that you've done," OFA's president, Peggy Brekveld, shares. Our sector is stronger due to their contributions towards the betterment of Ontario agriculture. We wish them all the best in their future endeavours.
For more information, contact:
Tyler Brooks
Director of Communications and Stakeholder Relations
Ontario Federation of Agriculture
519-821-8883 ext. 218
tyler.brooks@ofa.on.ca