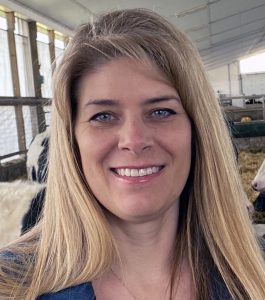 By Tracey Arts, Director, Ontario Federation of Agriculture
It's been another challenging year as we continued to navigate the pandemic while simultaneously juggling our daily roles of entrepreneur, farmer, partner, parent, sibling and friend. In true farmer fashion, our agricultural community has continued to showcase kindness, generosity and empathy as our industry battled extreme weather, disrupted revenue streams and volatile markets. Yet, we've persevered and we're now ready to turn the page for a fresh new start in 2022.
As we enter the festive holiday season, it's the opportune time to reflect on our individual contributions as farmers, the values we share together as an industry and with our consumers, and the collective accomplishments of our sector. Ontario's agri-food sector has a lot to be proud. The food value chain has remained strong and reliable as producers, processors and distributors have remained committed to serving Ontarians the highest quality of food, fibre and fuel products for the province.
Throughout the pandemic, you have all embodied what it means to be a good neighbour as you continued to show up for loved ones, co-workers and peers in need. Your work ethic and kindness was one of only a few guarantees in uncertain times.
The Ontario Federation of Agriculture (OFA) encourages all Ontarians to continue supporting local farming and food communities by sourcing local products throughout the holidays. Supporting local can make a world of a difference to your neighbour's small business and goes full circle by keeping the money in your community. Sourcing local from small businesses gives them the gift of extra support to purchase gifts for their loved ones and have a memorable holiday gathering.
Celebrate the achievements of Ontario's agri-food sector by filling your holiday plates with fresh, local, affordable produce and meats. If possible, purchase directly from your local grower and producer or look for the Foodland Ontario logo when shopping at the grocery store. Source baked goods from the local bakery, spirits or beverages from distillers, breweries and wineries, and fresh tasting meats from the local butcher. All of these contributors to the food supply chain will be grateful for the community support.
If decorating for the holidays, make the conscious decision to purchase your evergreen arrangements, poinsettias and flowers from a local greenhouse or florist. Source your hostess gifts from local businesses such as the town cheese, honey or preserve shop. Visit your local tree farmer when looking for a live Christmas tree to decorate in ornaments and lights.
When checking items off your Christmas gift list, look to locally-owned stores for unique and personal gifts for your loved ones. Local woodworkers and artisans are eager to make custom handmade pieces. Or give the gift of local food with a gift certificate to your favourite restaurant or farm gate store.
The Ontario Made website can be a great resource for gift giving as well and allows you to browse over 750,000 products proudly made in our province. The diverse list of items include clothing, food, beverage, home, garden, technology and more.
I believe in supporting local all the time. Supporting local throughout the holidays and beyond raises the profile of local food, keeps money in the local economy and garners support for every link of Ontario's agri-food supply chain.
Oftentimes, it's easy to forget the connection between the food on the table and the many hands that worked to raise, tend and harvest it. OFA is committed to further fostering the support local movement through two consumer outreach initiatives –  Home Grown and Source Local. Both initiatives highlight the fact that agriculture is prevalent in everyone's life, whether you reside in an urban area or rural community. The key message being that we need to protect our natural resources to ensure we can produce food for future generations and that we want to better connect with Ontarians over shared values related to local food.
As we approach the start of a new calendar year, I challenge everyone reading this to make sourcing local a part of their New Year's resolution.
And while you're enjoying all the great products local has to offer, we encourage you to post a message or video on social media telling us why and how you source local for a chance to win one of four Ontario local food prize packs. Use the hashtag #SourceLocal and #MyReason and tag @FarmFoodCareON and @OntarioFarms in your post.
On behalf of OFA, we would like to wish everyone a safe and happy holiday season full of quality time with loved ones, and life-long memories over a shared all-Ontario holiday feast.
For more information, contact:
Tyler Brooks
Director of Communications and Stakeholder Relations
Ontario Federation of Agriculture
519-821-8883 ext. 218
tyler.brooks@ofa.on.ca