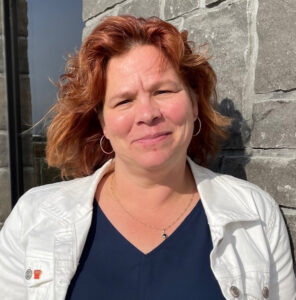 Peggy Brekveld, a northern Ontario dairy farmer, was acclaimed as President by the OFA Board of Directors following the 2022 Annual General Meeting. Peggy is entering her third one-year term in the President's position. She also serves as the Director-at-Large after being acclaimed for a three-year term at the organization's 2020 annual meeting.
She previously served as Vice President for six years (2014-2020), and was the Zone 15 Director for three years (2011-2014) representing the northern Ontario region of Algoma, Cochrane, Dryden, Kenora, Manitoulin-North Shore, Nippissing East & West, Parry Sound, Rainy River, Sudbury East & West, Temiskaming and Thunder Bay. She has been a board member of the Thunder Bay Federation of Agriculture since 2005, including two years as President. As of 2023, Peggy is now also vice-chair at both the Agricultural Adaptation Council and the Canadian Ag Human Resource Council.
Peggy and her husband Gert own and operate Woodstar Farm, a 70-cow dairy operation in Murillo. Provincially, she is currently a board member of the Agricultural Adaptation Council. She enjoys promoting the importance of agriculture and local food to provincial politicians, municipalities, students and other community groups. She helped bring together the Thunder Bay District Agricultural Economic Impact Study, a website for her county federation (www.tbfarminfo.org), promotional displays and farm tours.
Peggy is a Class 12 graduate of the Advanced Agricultural Leadership Program. In 2008, the Brekveld's were finalists in Ontario's Outstanding Young Farmers program.
Contact:
peggy.brekveld@ofa.on.ca