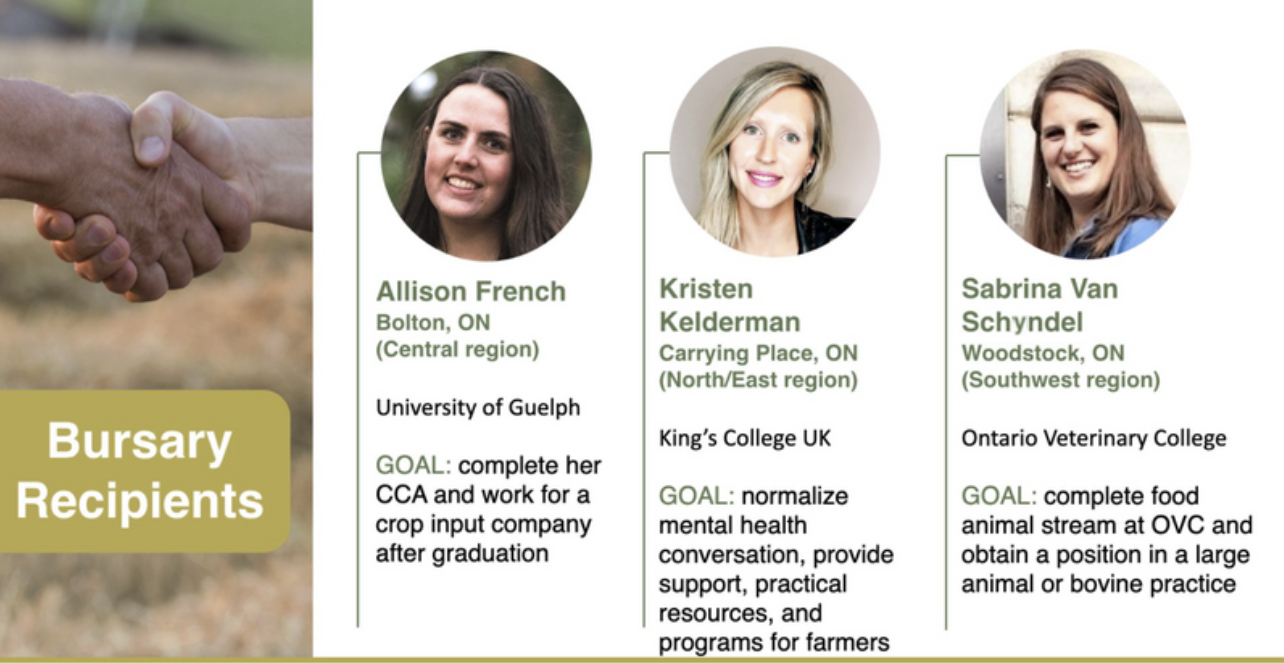 OFA's post-secondary bursary program is an integral part of our endeavour to achieve Farms and Food Forever. The bursary has traditionally been provided by funds raised at Annual General Meeting events. With the AGM in a virtual format again this year, the Board of Directors covered the costs to ensure that 3 bursaries of $2,000 would still be available.
Over 50 applications arrived from across the province, reflecting the skills and commitment of so many young people to the agriculture sector. Applicants are asked to demonstrate their leadership skills, agricultural experience, community involvement, and academic achievement.
This year's recipients:
Allison French, from Bolton, ON grew up on her family's grain farm, is in her final year at the University of Guelph for a Bachelor of Science in Agriculture. She has enjoyed being involved in the various clubs offered at her university and has taken advantage of the different opportunities they offered, including completing the grower pesticide safety course through the Ontario Agricultural College Soil and Crop Club. Allison has achieved standing on the Dean's Honour List, has served as a 4-H Ontario Ambassador, and is a director with the Albion Bolton Agricultural Society. After graduation, she plans to obtain the Certified Crop Advisor status and work for a crop input company, to pursue her calling in the grains and oilseeds sector.
Kristen Kelderman of Carrying Place, ON is in her second year of the Masters in Psychology and Neuroscience of Mental Health program, from King's College UK, which she is completing online. Some highlights of Kristen's resume include owning and operating a marketing business, Class 9 graduate of the Young Dairy Leaders Institute, and past board member for the Canadian Agri-Marketing Association. Kristen was raised on a dairy farm and completed her Bachelor of Science in Agriculture at the University of Guelph. With her current studies and time spent as a mental health advocate, Kristen's goal upon graduation is to professionally provide support, practical resources, and programs in the mental health field with a focus on the farming community.
Sabrina Van Schyndel of Woodstock, ON is completing her Doctor of Veterinary Medicine at the Ontario Veterinary College, in her third year. Sabrina's achievements include a Masters in Epidemiology, herd manager on multiple dairy farms, and co-President of the Food Animal Club at OVC. Sabrina enjoyed many years as a member of the 4-H program and completed 40 club projects where she owned, reared, and showed lambs, calves, and horses. She has a passion for all things livestock: husbandry, nutrition, and especially veterinary care.
Her goal is to complete the food animal stream at OVC and then obtain a position in a large animal or bovine practice upon graduation.