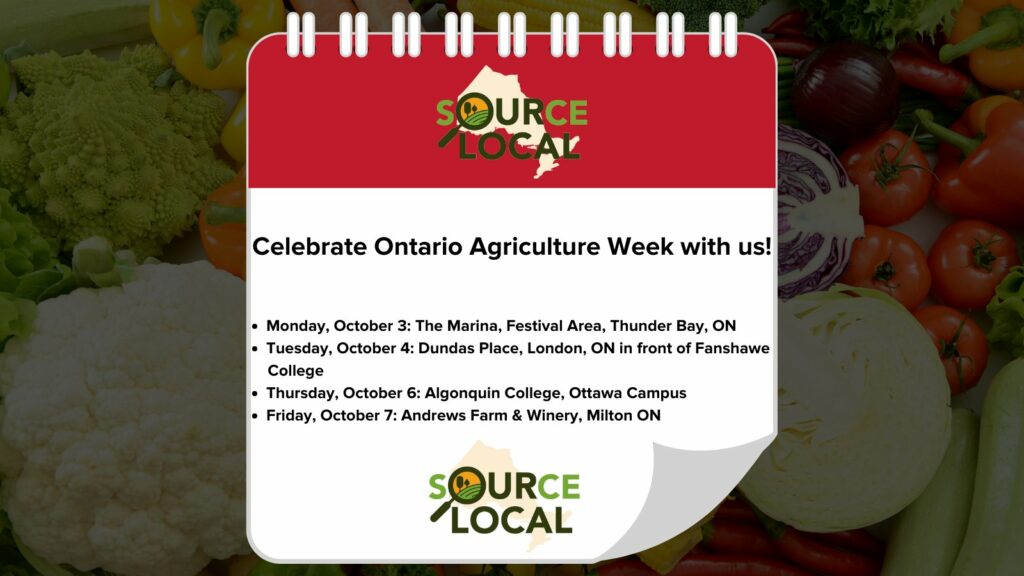 Throughout 2022, a partnership between the OFA and Farm & Food Care Ontario has resulted in a pilot program called Source Local funding events and activities across Ontario. 17 local federations received funding and have developed a series of projects ranging from trail signage to a farm colouring book, farmer nights at drive-in theatres, distribution of The Real Dirt on Farming throughout regional classrooms and more.
Between October 3 and 7, four provincial events will be held across Ontario to commemorate Ontario Agriculture Week. Join OFA, Farm and Food Care Ontario, local farmers and industry partners as we showcase Ontario's agriculture industry. These 'Pic and Post' events will provide a free meal to the first 250 guests (minimum) at each who post about it on social media or pose for a photo with their reason for sourcing local. Learn how to source food locally at farmers' markets as well as in the grocery store. We will be on site at the following locations from 11:00 a.m. to 1:00 p.m. with the exception of Halton, which will be held from 3:00 p.m. to 8:00 p.m.
Thunder Bay Event Details:
Date:               October 3, 2022, 11 am to 1 pm
Location:          Thunder Bay Marina, Festival area
London Event Details:
Date:               October 4, 2022, 11 am to 1 pm
Location:         Dundas Square, across from Fanshawe College, London
Ottawa Event Details:
Date:               October 6, 2022, 11 am to 1 pm
Location:          Student Commons building, Algonquin College, 1385 Woodroffe Avenue, Ottawa
Halton Event Details:
Date:               October 7, 2022, 3 to 8 pm
Location:         Andrews Farm & Winery, 9635 10 Side Rd, Milton, ON
The first three events will run from 10 am to 2 pm with food available between 11 am to 1 pm. Those attending will have an opportunity to speak directly to farmers and commodity groups about sourcing local food.
The last event in Halton is a combined event celebration of Ontario Agriculture Week with the Halton Region Federation of Agriculture. Starting at 3 pm, those attending will have an opportunity to connect with local producers, visit the farm, enjoy a corn roast and more. Oct. 7 is a PA day in Halton/Milton and promotion will target families in these areas.
For more details about the Source Local initiative, visit www.sourcelocalontario.ca.