The Ontario Energy Board (OEB) sets Time Of Use and Tiered Regulated Price Plans.
Residential and small business customers can switch between plans to suit their needs and ability to reduce demand or their ability to shift times they use electricity. If you are considering a switch, go to the oeb.ca/choice to use the OEB online bill calculator.
OEB announced new Winter TOU and Tiered plan prices, effective November 1, 2022. For the past 12 months, OEB has not changed PRR rates for households and small businesses.
November 2022 Winter TOU Price Periods
New Price
Price from Nov 1, 2021, to April 30, 2022
Off-Peak

(Weekdays 7 p.m. – 7 a.m., all day weekends and holidays)

7.4 ¢/kWh
8.2 ¢/kWh
Mid-Peak

(Weekdays 11 a.m. – 5 p.m.)

10.2 ¢/kWh
11.3 ¢/kWh
On-Peak

(Weekdays 7 a.m. – 11 a.m. and 5 p.m. – 7 p.m.)

15.1 ¢/kWh
17.0 ¢/kWh
November 2022 Winter Tier Thresholds
 New Prices
Price from Nov 1, 2021, to April 30, 2022
Tier 1
Residential – first 1,000 kWh/month

Non-residential – first 750 kWh/month

8.7 ¢/kWh
9.8 ¢/kWh
Tier 2
Residential – for use above 1,000 kWh/month

Non-residential – for use above 750 kWh/month

10.3 ¢/kWh
11.5 ¢/kWh
Regulated price plans do not include other billing items, like delivery. If you have a contract with an electricity retailer, you pay the price agreed upon in the contract, not the price set by the OEB.
Under TOU, the price depends on electricity use during three price periods: Off-peak, when demand for electricity is lowest, Mid-peak, when demand for electricity is moderate, and On-peak, when demand for electricity is generally higher.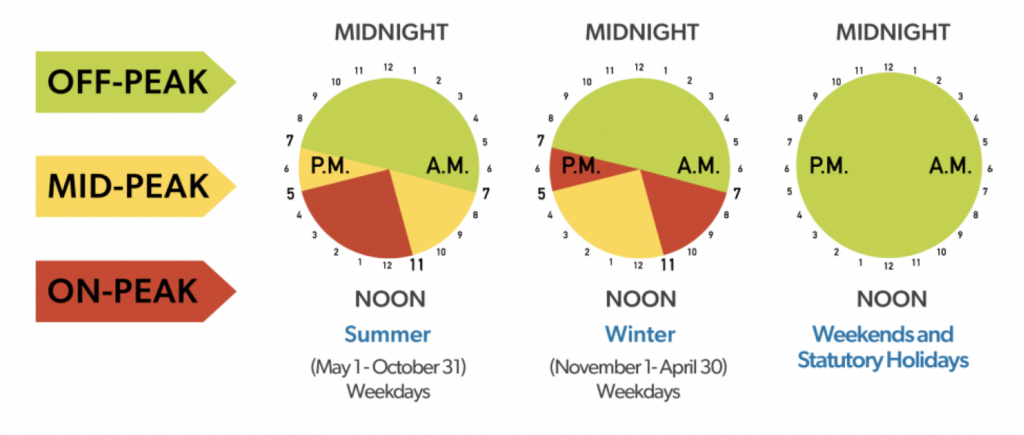 Electricity use differs during winter and summer, so TOU mid-peak and on-peak price periods change each November and May 1st. Off-peak price periods do not change.
The Tiered price plan allows electricity use at any time of day at the same price, although that price will change if you exceed a certain amount of electricity (the threshold) during the month.
The threshold changes in summer and winter to reflect changing usage patterns. For example, the summer use of air conditioning increases electricity demand so a lower threshold in the summer is meant to encourage conservation.
In the winter period (November 1 to April 30), the Tier threshold for residential customers is 1,000 kWh. In the summer period (May 1 to October 31), the Tier threshold for residential customers is 600 kWh. The Tier threshold for small business customers is 750 kWh all year round.
Ontario Electricity Rebate (OER)
The OER is a credit on electricity bills. The rebate was set at 11.7% on November 1, 2022. Some customers are automatically eligible and do not need to apply:
Residential and Small Commercial customer (billed under a Residential or General Service Energy rate class) using less than 50 kW.
Demand Customer with over 50 kW demand, but using less than 250,000 kWh annually.
Farm customers with over 50kW demand and using more than 250,000 kWh need to apply using a Self-Declaration Form to CICR@HydroOne.com to receive the rebate
Programs to Support Electricity Customers
The Ontario Energy Board has rules to ensure that all residential electricity customers natural gas customers  are treated fairly when it comes to customer service. Utilities cannot disconnect residential accounts for non-payment from November 15 through April. Go to oeb.ca/billhelp to find out about low-income bill payment support programs and ontario.ca/yourelectricitybill for electricity support programs. You need to meet certain criteria to qualify for these programs:
Rules to protect low-income customers
Electricity utilities, unit sub-meter providers and rate regulated natural gas utilities follow customer service rules specific to low-income customers. These include waiving security deposits, and allowing longer payment times under arrears payment plans.