Welcome to the Kent Federation of Agriculture

The Kent Federation of Agriculture is one of 52 county and regional federations supported by OFA across the province. Kent Federation of Agriculture represents the voice of agriculture in the local community and advocates on behalf of farm families in the Chatham-Kent area on local agricultural issues.
KFA represents a group of "Farmers working for Farmers."
Click here to view the complete list of KFA Directors
---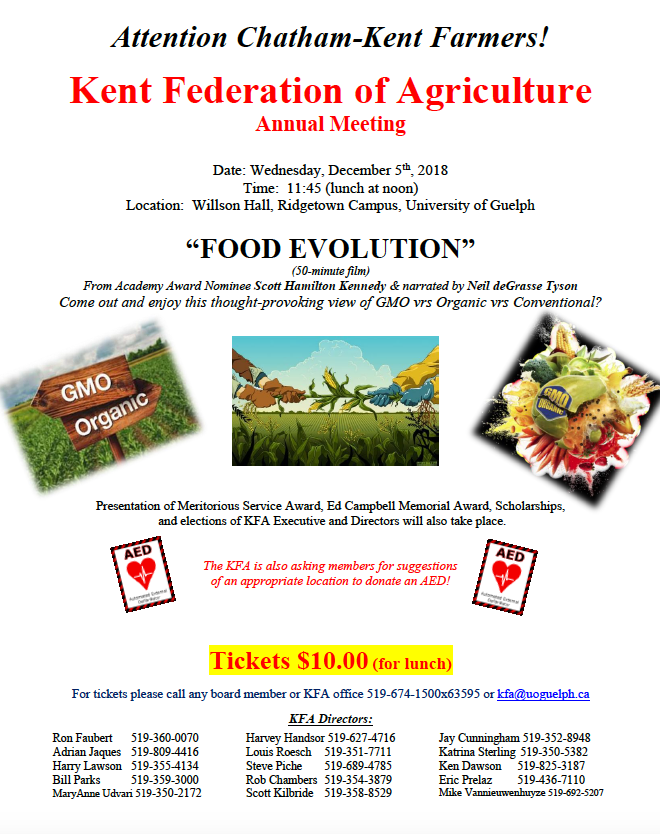 Click here to view the event flyer in print version.
---
Ontario Young Farmers' Forum 2018
Sunday, November 18 to Monday, November 19, 2018
Hamilton Convention Centre
1 Summers Ln Hamilton, ON L8P 4Y2
Start: Sunday, November 18, 2018 at 12:00 PM
End: Monday, November 19, 2018 at 4:00 PM
Details: The Ontario Young Farmers' Forum (OYFF) attracts some of the brightest young farmers from across the province. A two day forum is held in mid-late November, for those aged 18-40 and it is held in conjunction with the Ontario Federation of Agriculture (OFA) annual convention. Delegates have the opportunity to learn, connect and discuss the most pressing agricultural issues that are faced on a daily basis. No matter where you are from or what type of farming you do, you are welcome to take part in the opportunity to grow at OYFF. This event is open to all those 18-40, who are interested in or involved in agriculture, not only JFAO members.
Registration or more information:
The Junior Farmers Association of Ontario website.
http://www.jfao.on.ca/oyff
Registration:
Early Bird Registration before 15/10/18 is $145
After October 15th registration is $160
The Kent Federation of Agriculture (KFA) sponsor 2 young farmers to attend this worthwhile event. For sponsorship information contact the KFA:
519-674-1500 ext 635958 or kfa@uoguelph.ca.
---
Kent Federation of Agriculture
Regional meeting results!
The Kent Federation of Agriculture (KFA) held their Regional meeting on Wednesday, August 8, 2018 at Roesch Meats and more. The purpose of the Regional meeting is to allow KFA members the opportunity to get together and discuss agriculture related issues and to also elect 3 Policy Advisory Councilors (PAC) to represent the KFA at the Provincial level. Congratulations to Bill Parks, Mary Anne Udvari, and Jay Cunningham on being elected as KFA PAC. Their tenure will begin immediately following the OFA Convention in late November.
Also elected at the KFA Regional meeting were Delegates to attend the OFA Annual General Meeting late November. The KFA was allowed to send 9 Delegates to the OFA convention however the membership was only successful in electing 8 to attend.
Congratulations and thank you to the following 8 KFA Delegates elected to attend the 2018 OFA AGM:
Mike Vannieuwenhuyze       Ken Dawson               Ron Faubert               Harvey Handsor
Jay Cunningham                     Robert Ivison              Clayton Crow             Stan Brien
Following the election process the group were treated to a wonderful meal and then a very interesting presentation by Mr. Michael Whitson, from Workplace Safety and Prevention Services. Michael spoke on "Cannabis and other substances in the workplace." This subject resulted in a very entertaining conversation.
Thanks to all who attended and the next KFA membership meeting will be in the Fall when the elections for the 2019 KFA Board of Directors will take place.
---
Farm Safety Funds – Application Form
The Kent Federation of Agriculture has recently received funds from the now disbanded Kent Farm Safety Association. These funds are allocated strictly for community farm safety initiatives.
The KFA is welcoming any suggestions or ideas of Farm Safety projects that might best serve the community. If you or your organization / business have any suggestions please forward them to the KFA. Farm Safety is everyone's responsibility and we must all work together to ensure health & safety for all…Read More
---
MEDIA RELEASE
Base Line water well testing
The Kent Federation of Agriculture (KFA) realizes the importance of safe, healthy, water wells for the rural community.   The KFA recommends that regular water well testing be done and recommends land owners consider more extensive Base Line testing.Basic water well testing can be done easily and free of charge through the local Health Unit.   For those who would like to do a more extensive water well test or Base Line test, the Ontario Ground Water Association (OGWA) offers a variety of water well testing programs at very competitive prices.
Your water well may be one of the most important resources you have and being aware of its quality is your responsibility.   If you have a water well, please ensure you are testing it regularly.
For more extensive water well testing programs please contact the OGWA at 519-245-7194 or email ogwa@ogwa.ca.
-30-
For more information please contact:
Kent Federation of Agriculture, 519-674-1500 x 63595 or kfa@uoguelph.ca
Click here for a copy of the media release and the OGWA Rural Well Water Testing Packages.