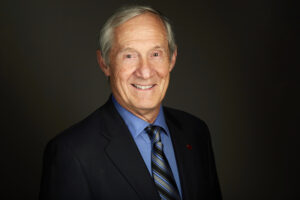 Crispin Colvin is a Vice President with the Ontario Federation of Agriculture, representing farmers in the southwestern Ontario counties of Lambton and Middlesex. He and his wife have a small herd of beef cows and grow corn, soybeans and wheat together with their son and his young family.
Crispin was first elected to the OFA board in 2016 as a director-at-large and was elected chair of Farm & Food Care Ontario in 2023. He's a former Mayor of Thames Centre, Warden of Middlesex County and Chair of the Board of Governors of Fanshawe College, and has also been involved with the Thorndale Fair Board and the boards of Western University, London Training Centre and London Convention Centre.
He is passionate about land use planning and farmland preservation, as well as issues related to livestock production and animal welfare. Crispin is bilingual and a graduate of both Western University and Fanshawe College.
---
Crispin Colvin, vice-président de la Fédération de l'agriculture de l'Ontario, représente les agriculteurs et les agricultrices des comtés de Lambton et de Middlesex, dans le sud-ouest de l'Ontario. Son épouse et lui élèvent un petit troupeau de vaches de boucherie et cultivent du maïs, du soya et du blé avec leur fils et sa jeune famille.
M. Colvin a été élu pour la première fois au conseil d'administration de la FAO en 2016 en tant qu'administrateur sans pouvoir décisionnel et a été élu à la présidence de Farm & Food Care Ontario en 2023. En plus d'avoir assumé les fonctions de maire de Thames Centre, de président du conseil de comté de Middlesex et de président du conseil des gouverneurs du Fanshawe College, il a siégé aux conseils d'administration de la foire agricole de Thorndale, de l'Université Western, du London Training Centre et du centre des congrès de London.
Il s'intéresse particulièrement à l'aménagement du territoire, à la préservation des terres agricoles ainsi qu'aux questions liées à la production de bétail et au bien-être des animaux. M. Colvin est bilingue et a obtenu un diplôme de l'Université Western et du Fanshawe College.
Contact:
crispin.colvin@ofa.on.ca
519-868-7317