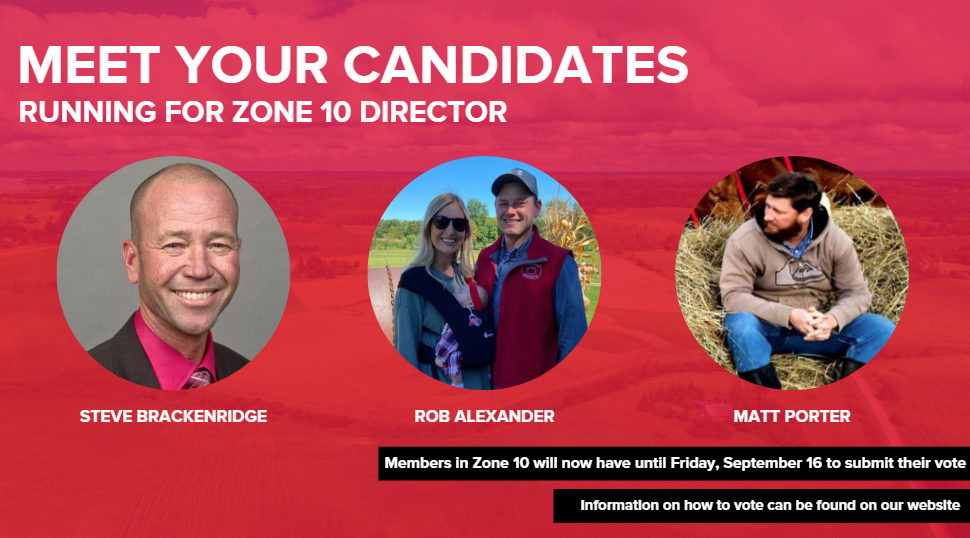 As an active OFA member, you are eligible to participate in the OFA Zone Election underway right now in your area. All members in Zone 10 should have received a voter information package by mail that outlines voting instructions and details about the candidates running to be the next Zone Director for Durham, Peterborough and Kawartha Lakes/Haliburton.
OFA recognizes that it's a busy time of year for our members and therefore will be extending the voting deadline by one week from September 9 to September 16. Members in Zone 10 will now have until Friday, September 16 to submit their vote.
If you've already submitted your vote – excellent! Your job is complete. If not, this is your chance to get involved, share your voice and have an impact at the grassroots level. We encourage everyone who hasn't voted yet to cast their ballot to ensure the next provincial director accurately reflects the needs and priorities of your local agricultural community.
Your fellow OFA members running for election include:
Click on the name of each candidate to view their profile and learn more about them.
There are three options to choose from to submit your vote:
Mail your completed ballot to OFA in the envelope provided (postage required). Ballots must be received by Friday, September 16.
Phone in your vote by dialing 1-855-684-2964 (toll free), enter your assigned PIN, found below and follow instructions to vote.
Visit the online website at https://ofa.simplyvoting.com enter your assigned PIN, found below and follow instructions to vote.
Your active involvement in this election process will help ensure the OFA Board represents your interests, issues and priorities as an Ontario farmer.
We value your input and participation and appreciate your vote.
---
Votez pour le prochain administrateur de la zone 10 pour représenter vos intérêts locaux
En tant que membre actif de la FAO, vous êtes admissible à participer à l'élection de zone de la FAO de votre région. Tous les membres de la Zone 10 devraient avoir reçu par la poste une trousse d'information destinée aux électeurs. Elle contient des instructions pour voter ainsi que des détails sur les candidats en lice pour devenir le prochain directeur de zone pour Durham, Peterborough et Kawartha Lakes/Haliburton.
La FAO reconnaît que c'est une période chargée de l'année pour ses membres et prolongera donc la date limite de vote d'une semaine du 9 au 16 septembre. Les membres de la Zone 10 ont désormais jusqu'au vendredi 16 septembre pour soumettre leur bulletin de vote.
Si vous avez déjà soumis le vôtre – Merci! Votre travail est terminé. Si non, c'est l'occasion de vous impliquer, de faire entendre votre voix et d'avoir un impact localement. Nous encourageons toutes les personnes qui n'ont pas encore voté à le faire pour que le prochain directeur régional reflète précisément les besoins et priorités de votre communauté agricole locale.
Les autres membres de la FAO qui se présentent aux élections comprennent :
Cliquez sur le nom de chaque candidat pour consulter son profil et en savoir plus sur lui.
Une réunion virtuelle de tous les candidats a été organisée pour vous donner l'occasion de les rencontrer et de leur parler avant de voter.
Informations pour la réunion virtuelle – tous les candidats
Durham, Peterborough & Kawartha Lakes/Haliburton Counties
Quand? Lundi 22 août 2022
Où? Zoom (demande de lien pour la réunion par courriel à mark.torrey@ofa.on.ca)
Heure : 20 h
Pour accéder et obtenir des informations sur la réunion, veuillez contacter Mark Torrey, représentant du service aux membres au 1-866-433-0247 (sans frais) ou mark.torrey@ofa.on.ca, ou contactez votre bureau local de la Fédération de l'agriculture.
Vous pouvez choisir parmi 3 options pour soumettre votre vote :
Envoyez par la poste votre bulletin de vote rempli à la FAO dans l'enveloppe fournie (affranchissement requis). Les bulletins doivent être reçus d'ici le vendredi 16 septembre.
Téléphonez au moment de voter en composant le 1-855-684-2964 (sans frais), entrez votre NIP assigné ci-dessous et suivez les instructions.
Visitez le site https://ofa.simplyvoting.com saisissez votre NIP assigné ci-dessous et suivez les instructions.
Votre participation active à ce processus d'élection contribuera à garantir que le conseil d'administration de la FAO représente vos intérêts, vos questions et vos priorités en tant qu'agriculteur ontarien.
Merci de votre contribution, de votre participation et de votre vote.