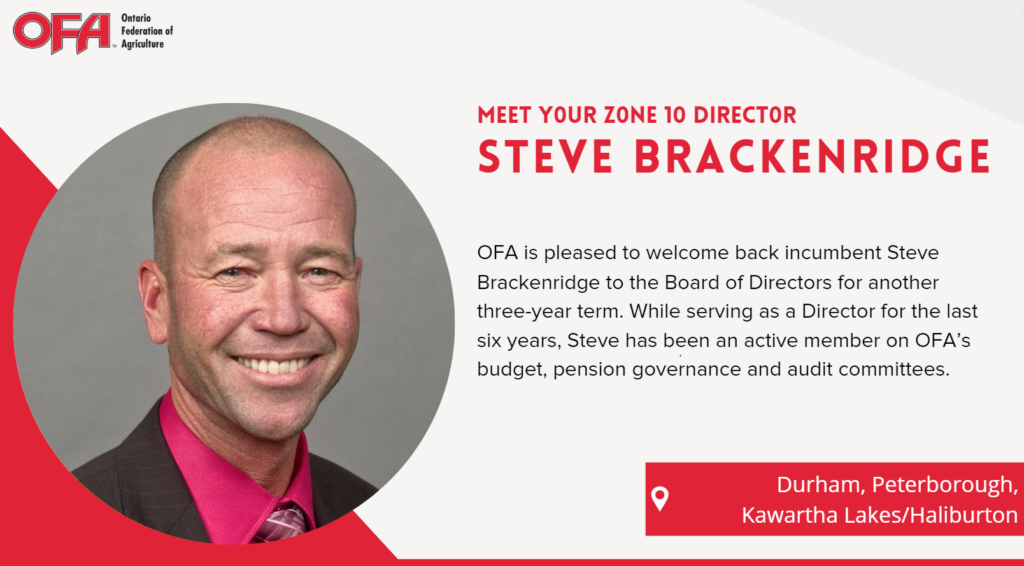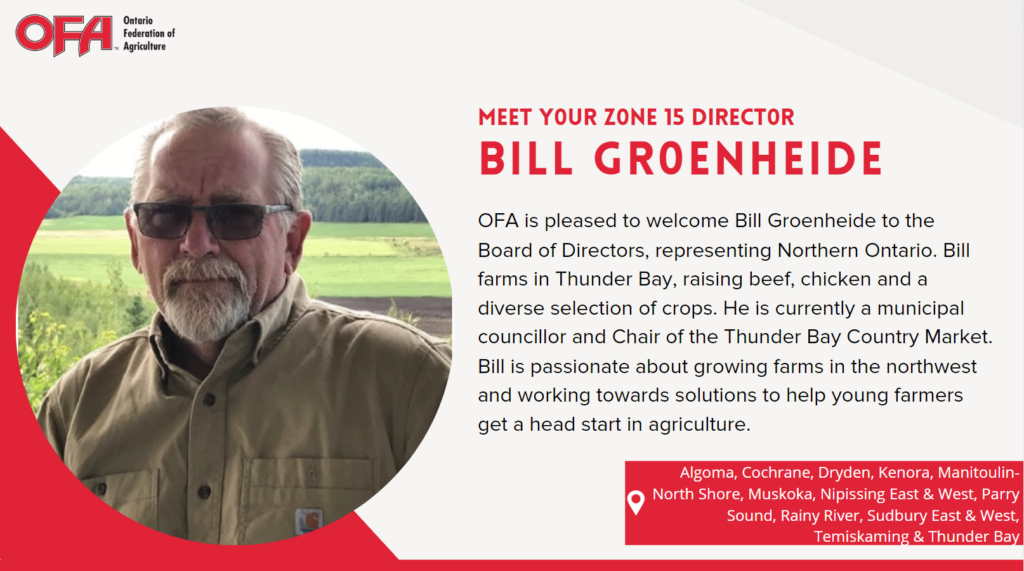 This year, OFA members had the opportunity to participate in the election of a Zone Director to represent their local interests in Zones 10 and 15. With the wrap-up of the voting period, the results have been unveiled. We sincerely thank all of the candidates for their time and effort in letting their name stand. We encourage anyone who wasn't successful this time around to consider running again in the future.
Zone 10 – Durham, Peterborough and Kawartha Lakes/Haliburton
OFA is pleased to welcome incumbent Steve Brackenridge back to the board for another three-year term.  While serving as a Director for the last six years, Steve has been an active member on OFA's budget, pension governance and audit committees.
The OFA would like to sincerely thank Matt Porter & Rob Alexander who also ran for the Zone 10 position.  Both were strong candidates and are tremendous leaders in Ontario agriculture with stated passions for sustainability and ensuring agriculture remains a viable career choice for young people and a thriving industry in the face of urban sprawl and soaring land prices.
Zone 15 – Northern Ontario – Algoma, Cochrane, Dryden, Kenora, Manitoulin-North Shore, Muskoka, Nipissing East & West, Parry Sound, Rainy River, Sudbury East & West, Temiskaming & Thunder Bay
OFA is pleased to welcome Bill Groenheide to the Board of Directors representing the region of Northern Ontario. Bill and his family farm near Thunder Bay, raising beef, chicken and a diverse selection of crops. He is also a municipal councillor and Board Chair of Thunder Bay Country Market.  Bill has been active with both Thunder Bay Federation of Agriculture and Beef Farmers of Thunder Bay, a Board member with Thunder Bay Co-op Farm Supplies, Hymers Agricultural Society and the rural Police Board. Bill is also a graduate of Class 12 Advanced Agricultural Leadership Program.  He is passionate about growing farms and farming in the north and northwest, finding programs both provincial and federal, that work for the north, and working on a solution to help young farmers get a start in agriculture.
The OFA would like to sincerely thank Brent Cadeau who also ran for the Zone 15 position. Both were strong candidates and are tremendous leaders in Ontario agriculture for the North. We would like to extend sincere appreciation to outgoing director Mark Kunkel for his dedication and service to the industry, serving an eight-year term on the OFA Board and we wish him well in his future endeavours.
Bill will officially begin his term with the OFA Board of Directors immediately following the 2022 Annual General Meeting held at RBC Place London in November, and we all look forward to working with him.
Please note nominations for the Director at Large position will open on October 15 and close on October 31.  A Director-at-Large position will be determined by our membership via election at the Annual General Meeting.  The successful candidate will also begin his/her three-year term immediately after the AGM.
Again, welcome to new and returning board members and our sincere appreciation to all candidates for putting your names forward. Your energy and enthusiasm for Ontario agriculture is welcome and appreciated. Your leadership and contributions to Ontario agriculture are really important and we hope to see your continued participation.