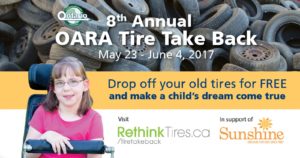 It's time to start stockpiling your used tires for the 8th annual Tire Take Back program. The Ontario Federation of Agriculture (OFA) is supporting this recycling, fundraising project again this year. It's a project with the Ontario Automotive Recyclers Association (OARA) and Ontario Tire Stewardship (OTS) that provides an easy way to recycle used tires for free, in support of The Sunshine Foundation of Canada.
In 2016, the program collected 64,623 tires and raised $118,000 for this national charity that makes dreams come true for children living with severe physical disabilities or life-threatening illnesses.
Here's how you can get involved in the 2017 program:
–    Save up all your used tires: vehicles, equipment, etc.
–    Mark your calendar with program dates: May 23 – June 4, 2017
–    Get together with your neighbours to save up a larger volume that could be eligible for free, on-farm pickup
If you have approximately 50 or more tires on your property that you would like to recycle, please click here to contact one of the participating OTS Haulers.
For more details, visit rethinktires.ca/tiretakeback.