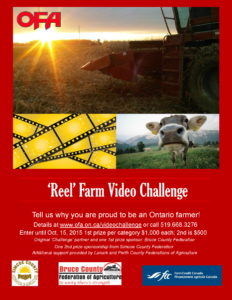 The OFA 'Reel' Farm Video Challenge is an opportunity for members to get creative and have a little fun while putting themselves in the storytelling spotlight.
Tell us why you are proud to be an Ontario farmer. But don't just tell us. Rant it in a positive, agricultural rant-style video or sing it in a farm-themed music parody with friends and family. The winning entry in each category will receive a $1,000 cash prize. All videos must present a positive portrayal of Ontario agriculture.
All videos must be submitted before October 15, 2015.
If you're attending Canada's Outdoor Farm Show Sept. 15-17, 2015 in Woodstock, Ontario OFA board and staff will be on hand inside OFA's Federation House to help answer any questions you have about the 'Reel' Farm Video Challenge.
If you're looking for ideas, check out the video submissions from the 2014 OFA 'Reel' Farm Video Challenge on OFA's YouTube channel at YouTube.com/OntarioFarms.
For more information, including the official contest rules and entry form, visit ofa.on.ca/videochallenge.