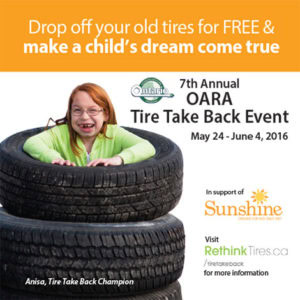 The 2016 Tire Take Back event will be held from May 24 to June 4. OFA members can drop off their used tires for free at any participating Tire Take Back location. In 2015, there were over 60 participating Ontario Automotive Recyclers Association (OARA) locations across the province.
OARA will donate tire collection allowances from each tire to the Sunshine Foundation of Canada – an organization helping to make dreams come true for children living with severe, physical disabilities and life threatening illnesses.
OFA is encouraging members to support this initiative.
Click here for a complete list of participating locations where you can drop off used tires and support the Sunshine Foundation of Canada. This program is supported by Ontario Tire Stewardship.