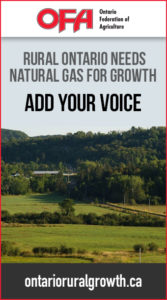 Natural gas is the single most important investment that will give farms, businesses and rural residents the competitive edge to drive growth. Natural gas is a clean, affordable energy source that is readily available in urban Ontario. It's time for the government to provide the infrastructure to rural Ontario to access natural gas opportunities.
Access to natural gas for rural Ontario will significantly reduce energy costs for farms, businesses and rural communities. It's an important way to keep rural Ontario competitive and growing. If natural gas were accessible across the province, farmers, businesses and rural residents would save more than $1 billion in annual energy costs. It's time the provincial government commits to a real investment in natural gas infrastructure across rural Ontario.
Voice your support for the expansion of natural gas infrastructure at actnow.ofa.on.ca.
For more information on this issue, visit ontarioruralgrowth.ca.