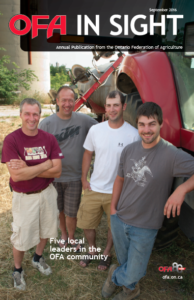 OFA In Sight – a special publication of the Ontario Federation of Agriculture will be arriving in OFA member mailboxes this week with their September issue of Better Farming magazine.
OFA In Sight is an inaugural publication showcasing a few of the many farm success stories of leadership and innovation within our 36,000 farm members. The magazine showcases OFA members across the province who are making a difference on their farm, in their community and within the agri-food industry. OFA is proud to share these stories and thanks its members for their continued hard work and contributions to our dynamic industry.
If you did not receive your copy of the publication with Better Farming magazine, please contact OFA Member Relations at 1-800-668-3276.