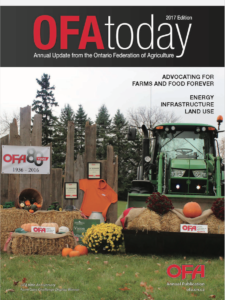 The Ontario Federation of Agriculture (OFA) has published its 2017 edition of OFA Today magazine. The annual publication serves as a valuable resource for communicating with OFA members. It provides members with informative updates and summaries on the diverse issues and activities your general farm organization has been working on over the last year.
Inside this year's edition, we feature a recap of OFA's 80th anniversary celebrations, a summary of key issues impacting Ontario's farm families and a look at OFA's new mission – Farms and Food Forever. The mission reflects our new approach to advocating and serving Ontario farmers.
OFA Today is distributed to all OFA members with their February issue of Better Farming magazine. If you did not receive your copy of the magazine, please contact OFA Member Relations at 1-800-668-3276.