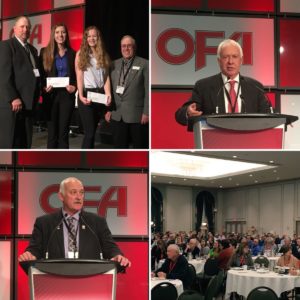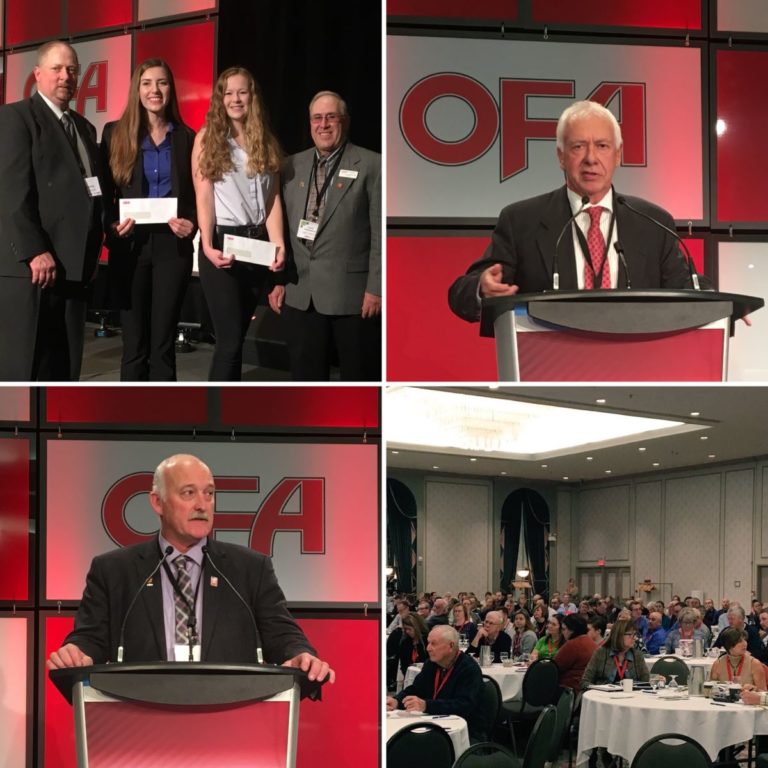 OFA's 2017 Annual General Meeting was highlighted by the unveiling of the organization's key political priorities for its 2018 provincial election campaign – Producing Prosperity.
Keith Currie was acclaimed by the delegates to serve in the position of OFA president for a second one-year term. Currie is a Collingwood-area hay and sweet corn farmer.
Peggy Brekveld and Mark Reusser were also acclaimed as OFA's two vice presidents. Brekveld, a northern Ontario dairy farmer, returns for her third one-year term, while Reusser, a Waterloo County turkey farmer, will be serving in the position for a second term.
The annual meeting was held Monday, November 20 and Tuesday, November 21 at the Delta Hotels by Marriott Toronto Airport & Conference Centre in Toronto. This year's theme focused on ProducingProsperity in Ontario and the concept of distributing the province's economic development beyond large urban centres.
The meeting featured a full slate of grassroots policy and politic discussions, representatives from Ontario's four political parties, guest speakers, presentations and interactive workshops.
David Freshwater, Professor of Agricultural Economics at the University of Kentucky, delivered the keynote speech on the importance of creating a positive message of rural opportunity and about finding ways to broaden growth in rural areas.
OFA announced the winners of the 2017 student bursary award – Julie French from Peel, Emily Potter of Temiskaming and Cassie Allen from Prescott. Each recipient was awarded $2,000.
For more information, click here for the news release.