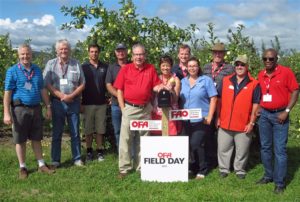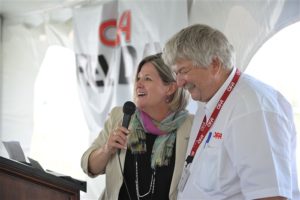 Field work took on a different meaning last week for Ontario Federation of Agriculture (OFA) staff and directors as we held the 2015 OFA Field Day. We took MPPs on a tour through apple and blueberry orchards and an apple packing plant in Durham region. The Field Day event was hosted by Kirk Kemp of Algoma Orchards and Charles Stevens of Wilmot Orchards.
The OFA Field Day event gives us the opportunity to showcase a slice of the diverse, innovative sector that drives the provincial economy. MPPs from all three parties attended including Agriculture Minister Jeff Leal, NDP Leader Andrea Horwath, NDP Agriculture Critic John Vanthof and PC Agriculture Critic Toby Barrett.
MPPs and staff were taken on a private tour and talk through these operations and learned about the way these two farm businesses add value to the economy, the consumer and the local community.
Standing out in the orchard provided the perfect backdrop to have conversations with politicians about issues that really matter to Ontario agriculture. We highlighted four topics that are on the minds of many Ontario farmers – energy rates, infrastructure support, farmland preservation and pollinator health.
For more details and photographs of the event, please read our latest commentary and view our OFA Field Day 2015 photo gallery.