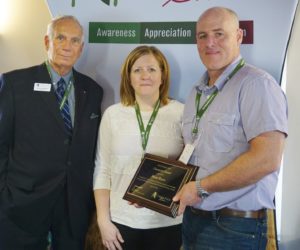 OFA director Brent Royce was recognized last week as the recipient of the 2015 Farm & Food Care Champion Award.
The award was presented at Farm & Food Care's annual meeting on April 15 by Bruce Christie, a Farm & Food Care board member. Royce was nominated for the award by Turkey Farmers of Ontario (TFO)and the Ontario Federation of Agriculture (OFA). Royce serves on the OFA board of directors representing Huron and Perth counties.
Royce grows crops and raises turkeys on his family farm in Listowel, ON and has been involved in farming for his entire life. He is a strong advocate for agriculture, using every opportunity available to him to talk about farming with non-farming Canadians.