This year, OFA members had the opportunity to participate in the election of a Zone Director to represent their local interests in Zones 1 and 12. With the wrap-up of the voting period, OFA is proud to unveil the results of the elections. We sincerely thank all of the candidates for their time and effort in letting their name stand.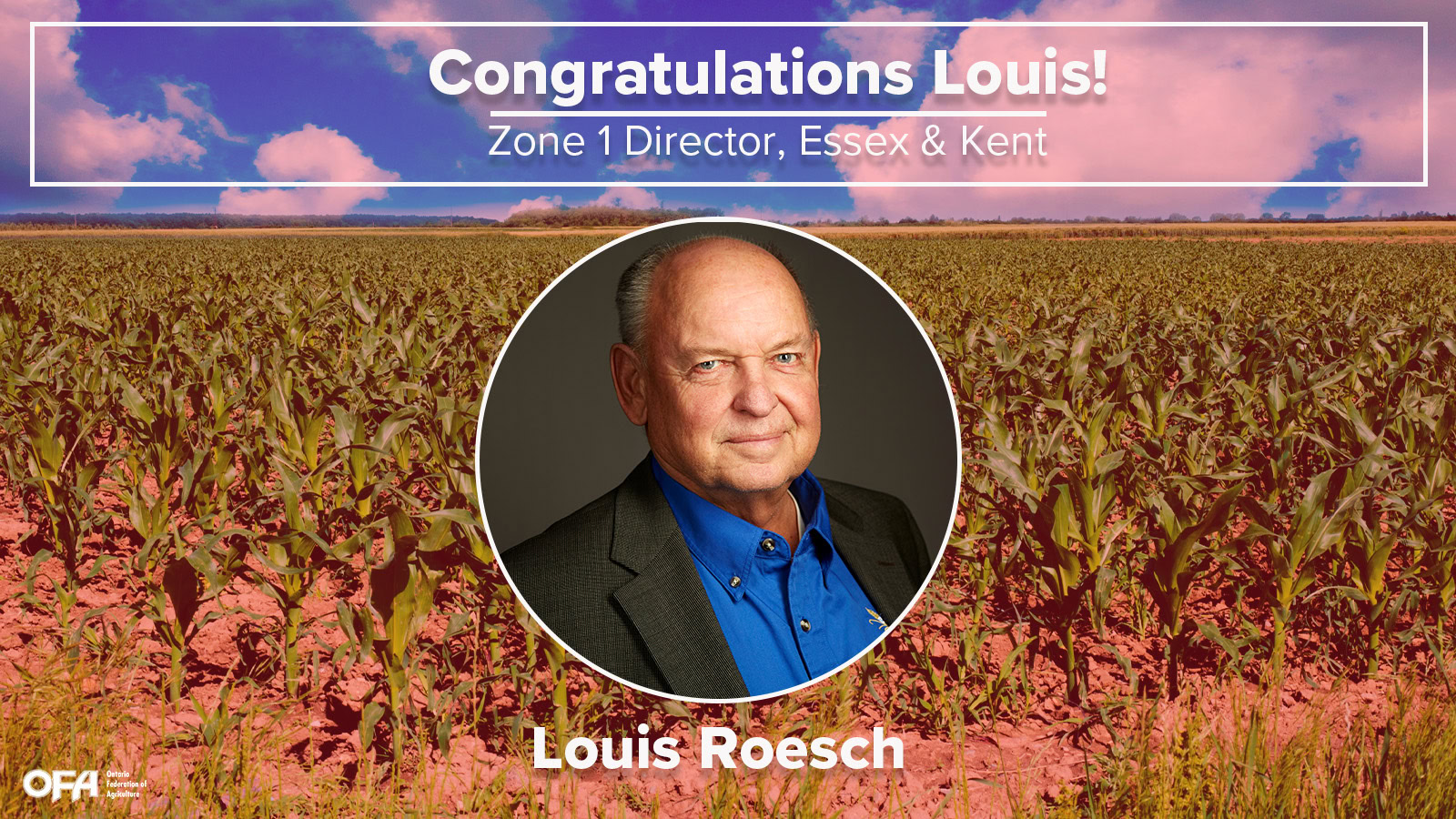 Zone 1 – Essex and Kent

The OFA is pleased to welcome back incumbent Louis Roesch back to the board for another three-year term. A board member since 2007, Louis has worked on a variety of files to ensure fair treatment for farmers, local businesses and rural landowners on key issues, such as the new St. Clair hydro corridor. He is a third-generation farmer in Chatham-Kent whose family grows crops and raises livestock, runs an on-farm retail outlet selling their own pork, eggs and free-run chickens, and also has a government inspected egg grading station on the farm.
We would also like to extend our sincere appreciation to Jason Fuerth for his efforts as a candidate running for the Zone 1 position.  Since 1994, Jason has played a crucial role in the Essex County Federation of Agriculture, serving as a delegate to OFA's annual meeting and Policy Advisory Council.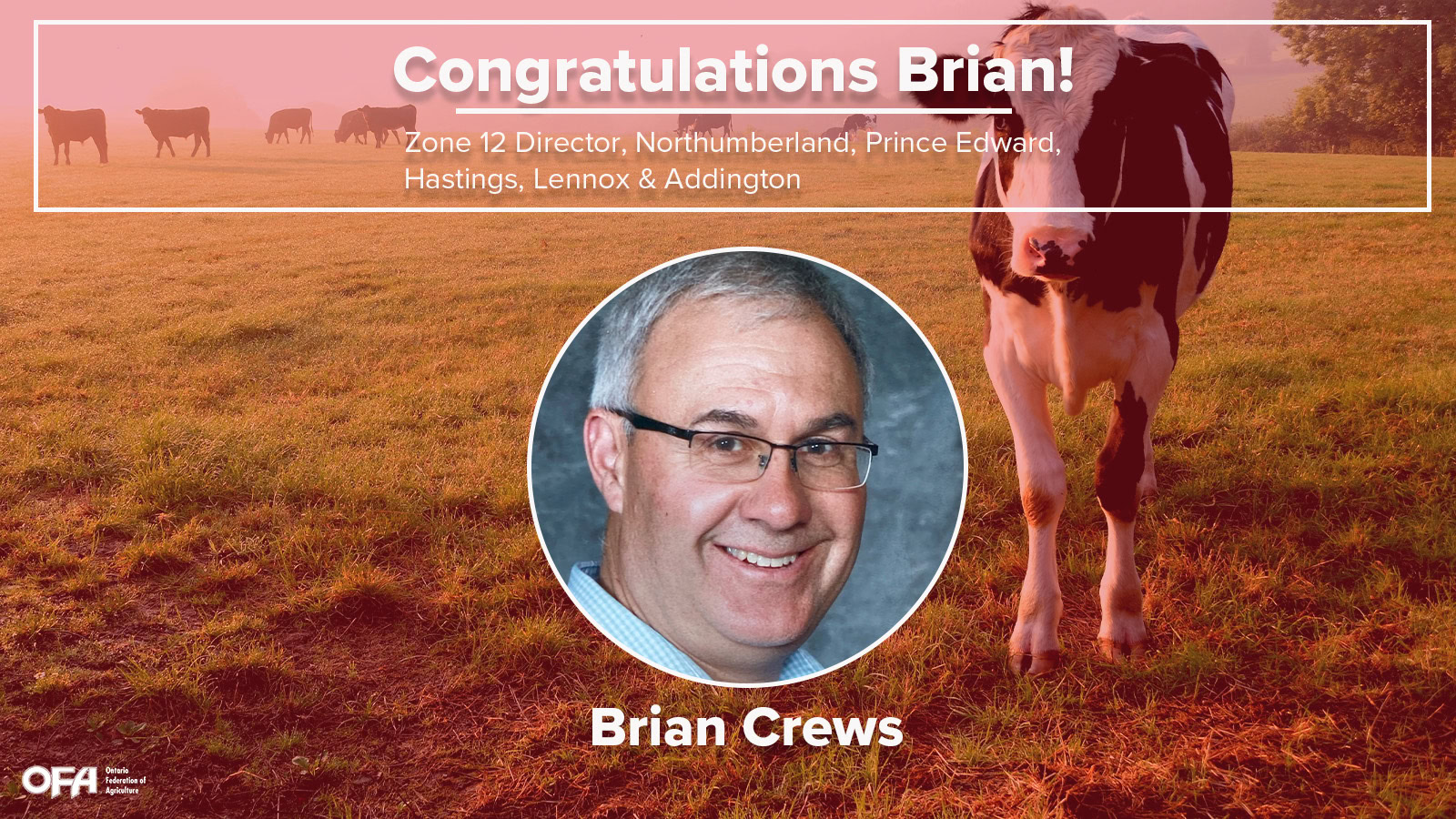 Zone 12 – Hastings, Lennox & Addington, Northumberland and Prince Edward

The OFA is pleased to welcome Brian Crews to the Board of Directors representing Zone 12 and the counties of Hastings, Lennox & Addington, Northumberland and Prince Edward. Brian and his family farm just north of Trenton, operating a 95-head dairy farm and planting, harvesting and drying field crops. With deep roots in Northumberland County, Brian's agricultural background and experience as a Toronto city firefighter is a valuable addition to the organization.
The OFA would like to sincerely thank outgoing director Bruce Buttar for his passion, dedication and service to the industry, serving on the OFA Board since 2012. Bruce was an advocate and champion for mental health and wellness, playing a vital role in farmers gaining access to the farmer wellness program in eastern Ontario as well as the province-wide Farmer Wellness Initiative. We wish him well in his future endeavours and appreciate all the work he put in on behalf of Ontario farmers.
Brian will officially begin his term with the OFA Board of Directors immediately following the 2023 Annual General Meeting at the Delta Toronto Airport Hotel & Conference Centre November 21-22, and we all look forward to working with him.
We also look forward to welcoming two new board members that were acclaimed in the summer during the Zone Director nomination period.
Joining the board for the first time is Andrea McCoy-Naperstkow, Zone 8 – Arnprior, Lanark, Ottawa & Renfrew and Clint Cameron, Zone 11 – Dundas, Frontenac, Grenville & Leeds.
Please note nominations for the Director at Large position will open on October 15 and close on October 31. A Director-at-Large position will be determined by our membership via election at the Annual General Meeting. The successful candidate will also begin their three-year term immediately following the AGM.
Again, welcome to new and returning board members and our sincere appreciation to all candidates for putting your names forward. Your energy and enthusiasm for Ontario agriculture is welcome and appreciated. Your leadership and contributions to Ontario agriculture are really important and we hope to see your continued participation.